Suzuki GSX-1250FA Motorcycle Review!
This is my review of my Suzuki GSX-1250FA 'Sports Tourer' motorcycle.

I purchased the Suzuki, known as the 'Bandit' in 2014, brand new, and before I had passed my motorcycle test. It was a bold move but being in my 60s back then, I required some motivation.

I receive no remunerations from any third party mentioned herein. However if you have enjoyed your visit or any of my articles have assisted you - Please consider donating (the minimum is £2) to the Sick Kids Friends Foundation
Last Updated 18th December 2022

This is an ongoing review (commenced 19th September 2014) based on my experiences in owning and riding the Suzuki GSX-1250FA motorcycle - if you require more information regarding my learning to ride and government test examinations along with the accessories, luggage, clothing and consumables that I purchased along with the bike - please visit my 'It's a Lifestyle Thing' article which is also a full diary of my biking experiences.
I passed my motorcycle (final) Government Module 2 Examination on the 1st August 2014 riding a 650cc training bike, so I am still a novice with regards to riding a large motorcycle. I have driven a car for nearly 50 years BUT riding a motorcycle in today's traffic is a new experience.

When it came down to purchasing a motorbike, I spent a great deal of time researching all the different brands - Honda, Yamaha, Triumph and Suzuki amongst others. I wanted a sports bike BUT also a bike that I could use to tour around the UK with the minimum of luggage.

Of course the cost came into it BUT it was not the deciding factor as the overall package was very important which included the accessories and the running costs. The Suzuki GSX-1250FA was a tried and tested motorbike, built with a fairing, designed for comfort and based on the legendary Suzuki Bandit. The GSX-1250FA had the sports heritage, brilliant handling for a novice rider like me, able to lean over at fast speeds on the corners (although I still have a narrow chicken strip on the lip of my tyres) and with it's more upright riding position, excellent for touring without any back pain. My Suzuki GSX-1250FA is a 2014 model and was supplied with Bridgestone BT021 sports touring tyres which provide awesome grip on dry and wet roads in sports mode and excellent comfort whilst touring, even on rough roads.

From the start I decided that I would purchase a white painted Suzuki GSX-1250FA Motorcycle (see images below) so that I would be easily seen on the road; it has 6 gears, it's chain driven, it delivers optimum 108nm of torque at 3,700rpm, a 0-60mph of around 3 seconds and is ideal for relatively quiet cruising (around 3,700 revs) at 70mph. The 1250FA has a fuel injected 4 stroke four in line cylinder engine delivering 1255cc so you are not going to get that rumble and snarl like V twin cylinder engine bike. However, it has serious power and the acceleration is just phenomenal for such a large bike - I am told it can accelerate all the way to 132mph (on a track) without any slight hesitation and I have watched a YouTube video of the bike being raced on the German Autobahn where the rider achieved 245kph = 152mph.

Despite the power curve, the bike manages to average out 45-50 miles per gallon between city and country road trips and the locking petrol tank is good for around 190 miles (when maintaining low rev riding) and the dash bezel has a 5 figure icon fuel mileage countdown with automatic trip of remaining petrol and flashing warning icons for low fuel. The fuel consumption increases in the cold winter months and averages out at around 35-40 miles per gallon (when maintaining low rev riding). However, it is a different story when you open up that throttle and forget about riding in the low rev range and use the bike in 'full on' sports mode because then it will average out at somewhere around 30-35 miles per gallon.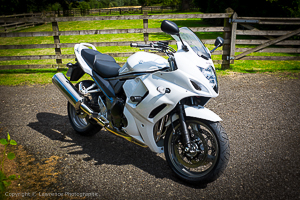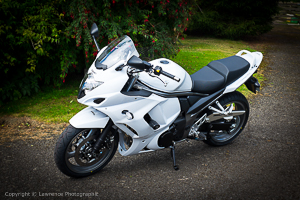 I am having to learn to overtake in a different way (less throttle) as the bike will accelerate from 40mph to 95mph in a very very short distance and pass a bus doing 40mph in a blurring fraction of the time it takes my Porsche 944 S2 sports car. On the front the GSX-1250FA boasts hydraulic twin (ABS) caliper disc brakes and the stopping power is first class, so much so that you could stand the bike on it's nose if you missed the timing of that hydraulic back single (ABS) caliper disc brake during heavy front braking. Even with hydraulic assistance the clutch lever hurts my left hand when I use it extensively for a long period (typically urban riding in heavy traffic) but that could be just a matter of a weak left hand which will strengthen over time.

Having driven a car for all these years and the bike for only a few weeks, I was surprised at just how quick the GSX-1250FA moves off from the traffic lights and the gap that is left between it and the vehicle behind. To the onlooker it may appear that I am speeding but the bike has just 'popped' very quickly up to around 30 mph and within the legal speed limit. The average car just does not get away with that ease and very often when I am the one behind a car at the lights, I have to give it plenty of time to move ahead of me or I would be up it's rear.

The GSX-1250FA comes with 3 years unlimited mileage warranty and a toolkit situated under the bike seat with little room for anything else other than the service book. The bike has an adjustable seat height and mine is set at the lowest setting of 805mm which works very well with my 33" inside leg dimensions without any leg or rear end discomfort when my feet are on the pegs. The bike weighs in at 257kg which is a fair weight and it is fairly easy to push or pull the bike (it boasts a rear grab handle) around in a straight line without much fear of dropping it but not so easy when negotiating a tight turn. One piece of technology that I love is that when you are ready to move off and you select first gear from neutral and if the side stand is still down, the engine will immediately cut out.
The GSX-1250FA has a gear indicator (on dash bezel) so it is great for instantly recognising that I am NOT sitting at the traffic lights in 2nd or 3rd gear - embarrassing if you almost stall pulling away in front of cars. I had an (optional) indicator (loud audible) beeper fitted to compliment the dash flashing green direction arrows (right and left on dash bezel) so that I would have a reminder that the indicator was on as the indicators are not self cancelling. I also had R&G Aero frame sliders, bar ends and bobbins on the rear swing arm fitted just in case I dropped the bike or slid it down on the roadway in a corner.
I finished it off with a small Scottoiler that drips oil on the rear chain sprocket at (adjustable) 1 drop per minute with a oil reservoir (each fill is good for approximately 500 miles) fitted under the bike seat. The Scottoiler is great for self lubricating the chain as you ride BUT you must be careful because a faster rate of oil drip might spray the rear tyre. Even with the normal 1 minute drip rate, when the bike is standing upright with it's engine running for a long period of time the oil could build up on the stationery rear sprocket and drip down onto the tyre wall. Likewise this can also happen if you return from a trip and put the GSX-1250FA on it's centre stand as again the oil tubing will empty the last of the oil (a few drops) down onto the tyre wall. I usually park the bike leaning on it's side stand so any last drips of oil fall away from the bike.

I was limited to a running in period for the engine so for the first 600 miles I kept the revs down to below 4,500rpm and gained more handling experience. Apparently a new bike with brand new tyres (or new replacement tyres on an old bike) requires careful riding up to 100 miles until the tyres shed their smooth coating and bed it, so I was careful on the corners. Now that the tyres have travelled over 100 miles I am finding that the sports handling is exceptional and 2.5 hours straight touring is the average before I have to remove my backside from the seat and take a rest which is not a bad thing in any case.

Image of my new bike using the Fujifilm X100s camera - the image of me in my urban gear is obviously staged so the lighter and cigarette are for effect as I don't smoke -

Pre-Ride Checklist
There is no doubt that a motorcycle developing a mechanical fault at speed (any speed) is a great deal more hazardous to your health than a car. My pre-ride checklist may seem over the top but I believe it is necessary and if it is to hand, then it does not take long to run through. Of course if anything serious is found then the adjustment/repair will be conducted by the bike dealership. The service manual is very clear on these matters, especially in relation to warranty.

Suspension Adjustments
For the time being, I intend to leave my front and rear suspension adjustments as per the factory defaults as I don't plan to carry a pillion passenger - at my age, I don't want the responsibility.

18th September 2014


My Suzuki GSX-1250FA bike has had its first 500 mile service (I actually did 600 miles) and a change of oil, so now I can increase the engine limit up from 4,500rpm to 7,000rpm for the next 400 miles before the engine is fully run in and then up to the maximum of 9,500rpm which I will be careful to stay under. Once I get the bike over the 1,000 mile run in period, I will be making a video overview and posting it on YouTube.

27th September 2014
I don't own a Go-Pro Hero 3+ or a Drift Ghost S video camera so I used my Sony Alpha A57 SLT Camera with a Sony 18-55mm f3.5/f5.6 MK I zoom lens set to 18mm (27mm field of view) and the lens to manual. I used focus peaking to set up the focus area, strapped the camera to my chest and set off, looking a right dork. I kept to the speed limits so do not expect any crazy high speed accelerations.

However the video is reasonable for a first attempt and I think it provides a decent overview of the bike and the capability of the camera and lens. There is a contents page at the beginning of the video - please view the video in full screen and set the quality to 1080p HD for maximum resolution -

First Impressions


The Suzuki GSX-1250FA may be 'long in the tooth' and a motorcycle that has been around for many a year, albeit in Suzuki Bandit disguise but it is still appealing to look at, especially with it's full fairing. I like the instrument panel which is well laid out and centre positioned in front of the handlebars with (well spread) directional right/left indicator lights, incremental fuel gauge, analogue style tachometer with warning light, a gear indicator, a digital time clock and a digital speedometer as the basic display. The bike is sizeable with a centre stand and a side stand which both tuck up very neatly under the bodywork. I like the handlebars, pegs, gear lever, braking positions and the seating which all compliment my 6' height and 33" inside leg size and I understand that the seat (factory default) is in it's lowest position at 805mm to the roadway. The Suzuki GSX-1250FA is a great bike to sit on and the riding position (for me) is flawless.

Starting the Bike and Moving Off
The Suzuki GSX-1250FA motorcycle is 'old school' so the security consists of a steering lock position on the ignition keyswitch and a steering lock position with parking light. I purchased a heavy duty Oxford padlock shaped disc lock with warning lanyard extension (lanyard fixes to padlock and handlebars) to offer extra security protection. To unlock the steering lock the ignition key is used in the normal ignition switch which sits slightly down just in front of the handlebars and the key is turned to on. Whether you are in gear (side stand up) or in neutral, you must pull in the clutch lever before pressing the starter button. However, if the side stand is down the engine will cutoff immediately you select a gear or if you are in a gear the bike will not start, even with the clutch depressed - the stand must be up before any gear can be selected prior to moving off, a nice safety feature.

Once started the bike is relatively quiet in tick over as the oil gradually rises through the engine which usually takes about 30 seconds before setting off. The GSX-1250FA is a quiet bike, she is not going to growl although a very high revs you will hear the engine but even at 70mph at 3,500rpm in 6th gear she is so quiet. It is a pleasure to mount the bike, the seating position is fantastic and you feel very much in control. It is all very clinical, there is no vibration, no hassle and the controls are all where they should be with no surprises. The two mirrors were easily adjusted and gave me enough rear coverage without protruding beyond the handlebar ends and the overall width of the bike.

When you engage 1st gear, you will hear a distinct clunk and a slight shudder from the bike framework but the throttle is very responsive and there is no sudden uncontrolled spurt from rest. She moves away very easily and well balanced, even at a slow speed. Make no mistake and you can feel it, if I open up that throttle this docile machine very quickly becomes a full on sports bike with awesome and frightening acceleration.

The Suspension
I have my suspension set up as per the factory default setting which to date, I have not had any requirement to change - although it is fully adjustable. I have cruised along for many a mile, usually for around 2.5 hours at a time between stops including leaning her on country roads with rising crests followed by twisty tight corners without so much as a twitch from the bike and at the end of the ride, without any serious discomfort other than a stretch of my legs.

On the Dual Carriageway
My Suzuki GSX-1250FA motorcycle has the factory standard fly screen fitted as supplied with the bike and at around 70mph on a dual carriageway in heavy wind and torrential rain the machine and me travel straight and true. No wetness or cold seeping through my inner thighs thanks to the fairing and I never feel that the heavy wind is buffeting me and causing any kind of instability. On any occasion where I have to open her up in very heavy oncoming wind, all I have to do is drop my head lower on the tank to cut through it. The bike is well planted and even when opened up for overtaking, the heavy wind still does not pose a threat to the stability. I am usually never out of 6th gear, overtaking lorries and cars from 40mph to 70mph in an instant without bothering to shift down - very impressive.

The instrument panel displays everything you require, speed, gear indication, rev counter and the indicator right/left lights are set well apart so there is no mistaking which one is on. I fitted a very loud audible bleeper to remind me that an indicator is on because after driving a car for the last 49 years, I sometimes forget that the indicators are not self cancelling. The audible bleeper is especially handy in urban traffic where there are numerous junctions to negotiate using the indicators and on a 3 lane motorway because due to the increased concentration when lane changing, you can forget that an indicator is still on.

There is no vibration whether you are travelling at 20mph, 70mph or even 130mph on a track and travelling at 70mph at 3,500rpm hour after hour there is no noise to speak off except for a gentle swoosh from the engine, almost like the bike was electric driven. When I first got the bike I found the gears clunky and tight and finding 1st shifting down through neutral was not easy but now some 1000 miles plus, the gears are slick and there is a definite double click shifting down through neutral to 1st, although I always check the gear indicator before moving away. At any speed, the mirrors are rock steady with no double imaging and the right mirror is good enough for me to see the full outside lane and I require a lifesaver to cover the very small blind spot before changing lanes.

I have already completed my brakes tests (see YouTube video in this review) and the ABS stopping power of the Suzuki GSX-1250FA is par excellence. The front brake is a serious piece of kit and you can feel it's stopping power (wet or dry roads) but has to be used with the rear brake as the ABS brakes are independent of each other. The rear brake is sufficient for dual braking but leaves a lot to be desired as a brake used on it's own. The rear brake can be used in the city for light braking in slow moving traffic but make no mistake, when the chips are down and the rain is torrential with both brakes fully applied, with the engine decelerating (no clutch applied), she is going to stop straight and true in an emergency braking situation, even at 70mph plus speeds as you would expect her to.

Slipping between stationary cars and lorries in the dual carriageway lanes at 15mph is a breeze, even at 6mph and I always feel in control even with both my feet on the pegs. Sitting on the bike I can easily see over the top of cars and it offers a very commanding position for completing slow speed maneuvers'.

Sports/Cruising in the Countryside
The Suzuki GSX-1250FA performs very well, handling sweeping corners at speed with ease and you can lean her over without any trouble. She is not a full on sports bike and anyone who expects her to perform like a Suzuki GSX-R1000 will be disappointed. The set back upright handlebars are not as convenient as sport droops so it is not that easy to shift my body into a full on sports angle over the back of the bike but to provide me with some purchase, I have fitted TechSpec SS Snakeskin tank grips on either side of the tank. I rode the bike at around 60mph on the sweeping bends on the Port Seton coast road (east to west) which has rising crests just before tight corners and here the bike performed flawlessly with it's default suspension settings and my 15 stone weight sitting on the seat. I still have a small chicken strip around the outside of my rear tyre. I have probably now managed a 45-50% lean but I have chickened out long before the bike has reached it's limits.

The Suzuki GSX-1250FA requires some decent speed if you are leaning her over on tight corners, especially small roundabouts. If the speed momentum is not maintained on the lean, she will become difficult to handle and may feel as if she is about to drop. This can be said of any motorcycle but the GSX-1250FA is relatively top heavy (especially with a full tank) and requires that tight corner or small roundabout to be well planned in its entry and exit execution in relation to the speed and lean angle required. Like any motorcycle, once you have put some miles on her, you get to know the limitations of her sports handling.

Of course the bike is also a tourer so it is equally at home sedately cruising along those country lanes, mile after mile and the ride is so relaxing. No noise, no hassle, no disturbance as she breezes along at 50-60mph with eyes open for tractors and animals on the road. The Suzuki GSX-1250FA motorcycle has it all, sports handling, an able cruiser with phenomenal acceleration (when required) and awesome braking power.

In the City Traffic
When you undertake the Direct Access Scheme training, much emphasis is placed on how you mount a motorcycle, especially a heavy one. The Suzuki GSX-1250FA is very unforgiving if she is on a slight incline and you mount her without applying the front brake first and maintaining that brake until you are properly seated and your right foot is down on the back brake. She can very easily run forward from you even when the side stand is down or the roadway is uneven and the end result is a bike drop even before you get mounted. Likewise when stationery in traffic on a slight downhill incline or uneven roadway, I am aware that she could easily roll forward (even with my feet on the ground) so my right hand is always closed on the front brake or my right foot down on the rear brake.

The Suzuki GSX-1250FA is a heavy motorcycle and weighing in at around 257kg she is not a bike for 'sharply' changing direction at very slow speed without some serious hands and foot controls, especially at tight junctions and when crossing give way markings, because if you have to brake suddenly and she decides to drop, you will require a hell of an effort to hold her and bring her back up. When ridden in slow speed maneuvers the bike performs flawlessly using the accelerator, clutch and rear brake in combined control BUT if the front brake is used sharply at slow (around 6-9mph) speeds, this may cause her to nose dip and drop. Even the most experienced rider can stall a motorcycle whilst negotiating a very slow turning maneuver and that is when she is capable of dropping. She has not managed to hit the deck yet (touch wood) but in the early days soon after I passed my test (1st August 2014), she had a go. I also soon discovered that she does not like sitting idling for too long at a junction because unless you blip her throttle to clear her throat before setting off, she can stall. It's no big deal and now I fully understand why most bikers line the bike up at the giveway markings at junctions in a position which minimizes any sharp turn, apply the throttle generously and use clutch control when moving away. NOTE: My Suzuki (along with all Suzuki GSX-1250FAs) has been recalled for valve shim replacements which apparently can cause the motorcycle to stall on occasion. She is booked into Saltire Motorcycles in Edinburgh for this work to be done along with her yearly service in August 2016.

Mind you, the other day (27th January 2015) I found myself behind a huge traffic jam which stretched for at least 2 miles on 2 lanes and the police were turning the traffic (coming the other way) back onto our side at a roundabout whereby it was like a log jam. The Suzuki performed brilliantly and I was able to split the lanes with ease at around 6mph (seated/feet on the pegs) and walked it (seated) using the throttle at even slower speeds. The lorry drivers in Scotland are brilliant guys (perhaps they are bikers) because when 2 lorries are together, they always open up the gap to let you through.

I tend to use the engine and gears a lot to decelerate more than using the brakes and in the city the Suzuki GSX-1250FA will easily decelerate by popping down the gears and finally stop by gently applying the rear brake. Slipping between stationary traffic in dual carriageway lanes is no hassle and the bike is very maneuverable provided you keep her straight and upright. In the city and in heavy stop/start traffic the clutch lever is brutal on my left hand. The clutch operates very smoothly but the continual use hurts my hand after only a very short time. I have become used to it and from time to time at the lights, I remove my hand from the clutch lever and flick the fingers in and out to ease the pain. Make no mistake, the Suzuki GSX-1250FA is not a bike for heavy 'urban' use unless you have hands like a gorilla. However and thankfully there are no such problems when cruising or riding the bike in sports mode on the country roads. Interestingly, as the miles pile on, my left hand is becoming stronger and it appears that with time it will become sufficiently strong enough to limit the pain. NOTE: I discovered that most of the pain was in fact caused by wearing very heavy Gore-Tex gloves which restricted my left hand's contraction motion as I pulled on the clutch lever. Surprisingly enough, once I started wearing light gloves in the summer months of 2015, I never experienced any pain.

She is not the ideal 'urban' motorcycle, she is too heavy and you are not going to be able to sit on her and easily walk her into a tight parking space without using some throttle. Likewise if you dismount, she is not the easiest of bikes to maneuver in a tight turn without fear of dropping her. However, the side stand is very supportive, relatively simple to operate and I like the small leg on the end that allows me to place the edge of my heel down on it to push the stand down before I dismount. I dread the thought of an accidental stumble getting off the bike without that side stand being down.

I even leave the side stand down when I pull the bike up onto it's centre stand (my garage) and it takes some effort with my 15 stone fully placed on the cantilever of the centre stand to get the bike up before I then flip up the side stand and secure the bike. I am strong, I can crush an egg with one hand!

22nd July 2016
Nearly 2 years on and I am still enjoying my Suzuki GSX-1250FA motorcycle and the handling seems to get better and better. When I started riding the bike back in 2014, I had strong upper body strength but I found that my leg hamstrings had contracted over the years and thanks to my 68 year old worn vertebrae my lower back muscles left a lot to be desired. However, these weaknesses never proved a problem when riding the Suzuki because of it's upright (half sports) riding position and the 805mm low seat BUT I did take out a few sports bikes for test rides and only then did I realise that I should address those weaknesses.

I decided to commit to body building exercises each morning to strengthen my lower back and upper leg muscles as well as stretching the leg hamstrings. I also undertook a regime of push ups to strengthen my wrists and triceps muscles.

In my review I mentioned suffering from a sore left hand, thanks to operating the Suzuki's heavy clutch in urban traffic BUT I discovered that most of the pain was in fact caused by wearing very heavy Gore-Tex gloves which restricted my left hand's contraction motion as I pulled on the clutch lever. Surprisingly enough, once I started wearing light gloves in the summer months of 2015, I never experienced any pain. Today, I still have problems with the pain in my left hand when wearing those heavier gloves in urban traffic.

Confidence in old age wanes a bit especially when you have led a sedentary life for so long in retirement. I found that when I started motorcycling I suffered from a lack of confidence in 'man handling' the 257kg Suzuki in the garage never mind a street parking space and mainly because I was terrified, I would drop it. That all changed once I started my exercise routines and as my leg muscles and hamstrings improved my movement; the old confidence returned and I felt years younger both mentally and physically.

My Suzuki (along with all Suzuki GSX-1250FAs) has been recalled for valve shim replacements which apparently can cause the motorcycle to stall on occasion. She is booked into Saltire Motorcycles in Edinburgh for this work to be done along with her yearly service in August 2016.


14th April 2017
My Suzuki does not have a high revving engine so the peak torque comes in at 3,700 revs. I tend to pop up through the gears in the 3,700 to 6,000 rev range and these days I quickshift from 2nd gear without using the clutch - just a quick off/on flick of the throttle as I tension my boot under the gear lever and click the next gear very smoothly into place. NOTE: She is not fitted with an actual quickshifter.

This video clip explains clutchless upshifting -

She has that awesome 108nm of torque pulling power but she is never going to compete with the likes of a BMW S1000R sports bike for quarter mile, outright acceleration but I reckon for touring and 6th gear overtakes on the motorway, she can hold her own, especially in high crosswinds and sheet rain.

The service and valve shim replacements back in August 2016 seems to have made an improvement to its idling at traffic lights for a long time and then moving off, as it has never stalled.

I now have shoulders, arms and a neck like a gorilla thanks to my exercise routines in the morning and manhandling the Suzuki's 257kg of weight around.

The Suzuki GSX-1250FA has a fair bit of steel so to keep her in good nick she is treated once a year to a power wash then a good covering of ACF-50 to prevent corrosion. After a day out, if there is any muck on her, it is a light hosing of water to loosen it all off, a warm shampoo wash and another light hosing to finish. I dry the bodywork of with a sponge to soak up the water droplets and then garage her. So far there is no trace of corrosion.

I use my checklist before each trip and the bike is serviced professionally once a year. I never worry about the chain as my Scottoiler keeps it lubricated every time I go out for a ride, although I check the drip time after topping up the oil reservoir.

28th August 2021 - Touch wood, my Suzuki GSX-1250FA motorcycle is still going strong and I enjoy every minute that I am on the road with her. I also have a 2018 Triumph Speed Triple RS, so they get turn about, and I also use the Suzuki for touring trips. It strange but after riding the Triumph, I find that the Suzuki tends to tip in on the corners (when I first get back on her) but after a few miles, she (or me) seems to settle down and the handling is back to normal - the Suzuki handles very well on the road despite her being much heavier than the Triumph RS.

The Suzuki GSX-1250FA is serviced during a MOT check every year at Saltire Motorcycles in Edinburgh - where I purchased her new, back in 2014. They do a grand job and apart from normal service items, she has not had any major work done except for her valve shim replacements back in August 2016 which were the result of a Suzuki recall notice

9th January 2022 I have her locked up in the garage since early November 2021 for the winter period, my Suzuki GSX-1250FA motorcycle that is, not a wife. She will be 8 years old this year and (touch wood) she is still going strong. I have enjoyed every minute of owning the bike and hopefully we will enjoy even more years together. Her looks may be a bit dated in comparison to the latest models in the showrooms but there is without doubt, an attachment. Come March, we will be out on the country roads, enjoying cafe visits, picnics, meeting up with friends and relatives and travelling afar seeking new adventures. Who said old age is boring!



14th March 2022 - I am back on the road with my Suzuki GSX-1250FA motorcycle and enjoying country road blasts. I still alternate my bikes, so my Triumph Speed Triple RS gets equal share of my road time, unless I am away touring and the Suzuki is the preferred option.

1st November 2022 - Suzuki is locked up in the garage for the winter period. As usual, she is on trickle charge and covered over - I am looking forward to the spring.


Richard Lawrence
Scotland
United Kingdom