Canon 5D MK I DSLR Camera + Lenses
I continue to use my Canon 5D MK I DSLR 35mm 'Full Frame' camera with my Canon L lenses and I will not be selling the system. However, I still wish to purchase a new FF camera and hopefully in 2017 I can find one that suits me.

Some of my Lenses -
As this next FF camera purchase will be my last serious investment, I want to make sure that whatever the system (whether I remain with Canon or move to another manufacturer) it will provide me with the latest FF technology and especially a compact and lightweight weatherproof body with the manual handling that I require.

___________________________________________________


30th January 2014

The 'Full Frame' Experience!

The 35mm 'full frame' experience is a very hard act to follow and for a photographer who already owns Nikon or Canon professional lenses the
decision to abandon 35mm 'full frame' and move to a smaller APS-C sensor or Micro 4/3rds format cannot be taken lightly.

In combination with large optic lenses there is nothing quite like the 'RAW' image files from a Canon or Nikon 'full frame' camera. These files offer exceptional fine detail with high end image quality and the ability to greatly expand the dynamic range with the minimum of post processing development.

The leading 'RAW' image file software packages which can be downloaded and purchased at an affordable price are Adobe Lightroom and PhaseOne Capture One.

Today you can purchase a Canon 'full frame' system
which is relatively compact and lightweight especially if you search for the correct prime lenses. The Canon 6D DSLR camera is one of the smallest 'full frame' DSLR cameras available.

I have one favourite Canon prime lens that I will never sell off and to the masses it remains virtually unknown. The Canon EF 100mm f2 USM Lens features a large aperture and compact size. The first lens group moves for rear focusing, and sharp, crisp pictures are obtained at all apertures. The background blur is ideal for portraits and the USM autofocuses the lens quickly and quietly. As this lens features a Canon EF (Electro-Focus) lens mount, you can use it on a Canon full-frame camera.

I have put together a small purchase list for a FF system which is ideal for portraits, pulling in landscapes and for street photography -

| | |
| --- | --- |
| Canon 6D DSLR Camera Body | £1,347.99 Vat Inclusive |
| Canon 100mm f2 USM Prime Lens + Canon ET 65 III Lens Hood | £372.99 Vat Inclusive |
| SanDisk 16Gb Extreme Pro 95MB/s SDHC Memory Card | £43.20 Vat Inclusive |
| Canon LP-E6 Spare Battery | £64.95 Vat Inclusive |
| Total: | £1,829.13 Vat Inclusive |
The Canon 6D DSLR camera is already renowned for it's low light shooting capabilities and this camera will deliver clean images in very low light (e.g. night shots) up to ISO:3200. This shot (click to open a 1650 pixel size) of my grandson was taken when he was on the move and I used the older Canon 5D MK I DSLR camera and the Canon 100mm f2 USM prime lens. It was captured at ISO:800, aperture f2 (wide open) shutter speed 1/80sec and the image was so sharp that I softened everything but the eyes and lips -
___________________________________________________

8th September 2013
35mm 'Full Frame' DSLR Camera - Second Hand?

There are a few second hand Canon 5D MK I DSLR camera bodies available on the internet from reputable UK dealers.
It is probably a very nice inexpensive route into 35mm 'full frame' digital photography for around £499.00.

I am still using my 5D which I purchased back in 2006 when I started out with digital and is now regarded by some as a classic camera. I did my research on the Internet and at the time is was probably the best value for money 35mm 'full frame' DSLR available. I also purchased a couple of lenses, the Canon 24-105mm IS L zoom kit lens and the Canon 70-200mm f2.8 IS MK I L zoom which both delivered excellent image quality and very nice colours from the camera. These lenses are also available second hand.

Back then I was post processing my 'RAW' image files using Canon's DPP software that came bundled with the camera and invariably, I did batch processing to convert them to jpeg images without much editing.

The camera and the two lenses are not that compact and lightweight, however when one is fitted to the camera and in your hands, with the other one in a light backpack, the weight is fairly evenly distributed and not that
difficult to bear. Both lenses have 77mm optics and suck in the light providing a beautiful view through the camera optical viewfinder.

I suppose the ultimate test for weight stress, was during my 2008 trip to Egypt when I carried the system around in a
Lowepro 300 Flipside backpack which has the zip on the inside against your back and making in much harder for a thief to steal any kit. I need not have worried, because in 2008, Egypt especially Cairo, was a very safe place for tourists with soldiers and policeman on every street corner.

I carried the 5D and the two lenses in that
backpack all over Egypt, in Cairo, on the cruiser down the Nile, through many temples and whilst the 24-105L was great for the closer shots, the 70-200L was able to stretch across the Nile from the cruiser and grab some land scenes, although today, a 70-300mm lens like the inexpensive NEW (£289.00) Tamron SP 70-300mm VC Di USD which is a lighter and more compact zoom lens would probably be a better choice of lens for travel. I use a Tamron with my Sony Alpha A57 camera and it is great for image quality.

My girlfriend did not appreciate the photographic attention that Egypt received but it was a once in a lifetime trip. I usually keep a series of travel images down to about 100 but I reached around 600 for Egypt. I post processed the 'RAWs' in batch mode using Canon's DPP software (the web link below is from the jpegs gathered in Lightroom) and one of these days, I will get around to tackling them again using Adobe Lightroom - Check out this link for an extensive view of Egypt with a full index of the sites - Egypt 2008 Page.

A Canon 5D MK I DSLR camera 'RAW' file post processed using Adobe Lightroom 5 Software -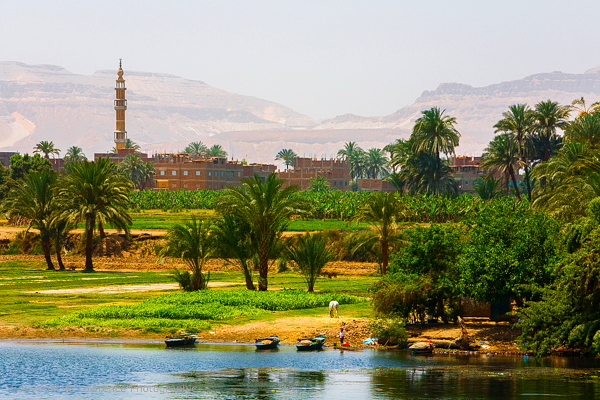 ___________________________________________________

17th January 2013

The Zeiss 15mm f2.8 Distagon Lens!



A video on the Nikon and Canon DSLR mount Zeiss 15mm Distagon -
___________________________________________________
26th October 2012
Old Faithful - The Canon 5D 'Classic' DSLR Camera

The other day my grand children came to visit and although it was a hectic time it was also very enjoyable. Its amazing how a couple of kids can light up your heart and faced with twin boys shuffling around on their rears (not yet walking) the ideal camera combo to catch their innocence was my 'old faithful' the Canon 5D MK I DSLR camera and Canon 100mm f2 USM prime lens.

I wanted to get some portrait shots captured indoors in natural light from the window - without flash. The 5D was set for auto white balance, multi-area metering, centre spot autofocus on the top of their noses, ISO:800 and the lens aperture wide open at f2 which gave me a reasonable shutter speed of 1/80secs.

The viewfinder has a very clear red rectangle outline around the centre spot focus point which makes selecting the nose area during a very slight lull in movement a piece of cake.
These images were taken 'hand held' whilst the kids were moving about and the 'RAW' image files were processed in Adobe Lightroom 4.1 software. They were slightly cropped, softened, slight vignetting added and the eyes and the mouths brought back to sharpness using the adjustment brush.

The Canon 100mm f2 USM lens has a 'wafer thin' depth of field at aperture f2 which is obvious in the images. It is not the ideal aperture to use for portrait work but in low light and when needs must, it delivers an incredible sharpness which has to be turned down in post processing.

My 6 year old Canon 5D 'Classic' MK I DSLR camera remains my firm favourite and provided the ISO rating is not over stepped and the final print size is kept reasonable, it is up there with the best DSLRs, even the latest and greatest.
___________________________________________________

9

th September 2012
The Canon 24-70mm f2.8 L MK II Zoom Lens
A neat video from
That Nikon Guy
-
___________________________________________________

9

th September 2012
The Carl Zeiss 135mm f2 Apo Sonnar Prime Lens!
A video from
Carl Zeiss Lenses
on their new 135mm f2 Apo Sonnar prime lens which comes in Canon and Nikon mounts -
___________________________________________________

28th August 2012

Shooting 'RAW' digital stills has certain advantages that are worthy of note -
The 'RAW' image file retains all of it's file data (uncompressed)

There is greater control in noise vs. image quality when post processing 'RAW' image files

Recovery of blown highlights, dark foregrounds is more likely when post processing 'RAW' files

From the 'RAW' file you can post process at very high levels for 'Fine Art' and 'Photographic Art' prints

The 'RAW' file can be post processed and converted to produce a jpeg and/or tiff image file format

The jpegs and tiffs can be converted into colour, black and white, even sepia formats

The frame speed of the camera can be kept reasonably high (shooting 'RAWs' only)

NOTE: The new Leica Monochrom Digital Rangefinder only shoots black and white 'RAW' files
During my travels abroad (last 6 years) and for projects, I always shoot 'RAW' image files. My favourite combo is my Canon 5D MK I DSLR camera and Canon 24-105mm f4 IS L Zoom lens. Seriously, this combo is 100% accurate and my autofocus keeper rate is very high. The secret (of course) is shooting in 'RAW' file format where the slightest uneven light can be eased in post processing.

I don't find the combo heavy, in fact I have never complained when carrying it around abroad and it never seems to bother anyone when I am shooting street photography. These are examples of one 'RAW' image file that was shot in the Valley of the Queens in Egypt and has been post processed into a black and white sepia version as well as a 'softened' colour variant using Adobe Lightroom 4.1 Software -
Some links in my web to other image samples and more on the Canon 5D combo -
I struggle with monochrome and photo art post processing but to take PP skills to
a higher level and achieve professional results you require to use software that can
dodge and burn
as well as masking and layering the image -

Check out the Adobe CS6 Tutorials
___________________________________________________

8th May 2012
Why a 35mm 'Full Frame' Camera in the Bag!

Every photographer has a favourite camera digital sensor format - for some it is Micro 4/3rds with it's 2x crop, whilst for others it is APS-C with a 1.5x or 1.6x crop and of course many prefer a 35mm 'full frame' sensor without a crop factor.

I have used all three formats and each has it's advantages as well as disadvantages but it is always the 35mm 'full frame' camera (whether in film or digital sensor) that I return to and enjoy the most. I like the lens perspective, especially with a 50mm lens to produce a 'natural eye' viewing of a scene where there is neither extension or compression distortion. The depth of field control is more pleasurable and the 'RAW' files that the camera produces are exceptional to work with in post processing. The new Canon 5D MK III DSLR camera sure seems great but I wish that I could purchase a 'full frame' digital sensor camera in a smaller body style, something along the lines of the new Fujifilm X-Pro1 but Nikon and Canon just keep churning out those larger DSLR bodies and heavy lenses. It's a pity because once you have enjoyed using 'full frame' it's real difficult to give up the format even if the camera is larger and heavier than you would like.

Lenses have always been the driving force, the image quality is important but then so is the long-term investment, which is well worth taking into consideration when making a purchase. These days, as I get older, I prefer an autofocus lens with a manual override (best of both worlds) but I could live with a Leica, Zeiss or Voigtlander manual focus lens, as long as the camera focus mechanism could deliver. In fact some of my most enjoyable lenses are 'second hand' Nikon AI-s lenses which I currently use on a Nikon FM3a 'film' SLR camera and are easy to manually focus.

I am fairly sure that Canon will bring out a 'mirrorless' digital camera to compete with Panasonic and Nikon, which will probably have small and lightweight Canon lenses but it is not a road I will take unless of course the camera is a 35mm 'full frame' variant? Now that would be most excellent, a Canon 35mm 'full frame' mirrorless digital camera (body like the new Fuji X-Pro1) with a couple of small and lightweight 'prime' lenses in the same bag alongside a new Panasonic GH3 Micro 4/3rds (video/stills) camera with my Lumix 100-300mm zoom lens with it's 200-600mm 'field of view' - 'PEFECT' as Pop Larkin would say!

This is an image captured with my Canon 5D MK I DSLR 'hand held' and my (small-lightweight) Canon EF 100mm f2 USM lens. The girls are my cousins grandchildren and the image settings are ISO:200, aperture f4, shutter 1/400sec and the center point focus was on the right eye of the girl on the left. Even at f4 the 100mm lens has quite a narrow 'depth of field' on a 35mm 'full frame' camera and due to the body positions on the plane, the eyes of the girl on the right are ever so slightly out of focus - much more evident in the full size version. The image has been softened in Adobe Lightroom, contrast and saturation adjusted, some light vignetting applied and the sharpness of the eyes brought back using the adjustment brush. The Canon 100mm f2 USM lens (my version) is razor sharp, even at f2 and will show up flaws in the skin like craters on the moon.
___________________________________________________

25th April 2012
Bad Weather - A New Roof - Cameras - Photo Art!

The weather here in Edinburgh, Scotland (as usual) is a mixture of continual heavy rain, a very cold east wind and the only option is to stay indoors. At least my new roof has been fitted to the house, so no more leaks and it looks beautiful with it's new Marley tiles. My thanks to Harris Builders who are based at Bannockburn, Stirling, who worked hard, completed a superb job and at a very fair price!

For the moment I have put the purchase of a new 'full frame' DSLR camera aside and as I forecast, the new Canon 5D MK III and the Nikon D800 have had their share of 'wrinkles' that are currently being sorted out with firmware and hardware fixes. Looks like a purchase later in the year (probably the 5D MK III) after Canon have released all their new DSLR models but hopefully the new Panasonic GH3 Micro 4/3rds digital camera will appear before the summer is finished and I can get to use it with my current Lumix MFT lenses?

So I have started to mess around (once again) with photographic art and have spent more time on developing my post processing skills. The following image was taken with a Canon 5D MK I DSLR + Canon 24-105mm f4 IS L Lens and the 'RAW' file was post processed, softened and sharpened in places using Adobe Lightroom 4 software. There is more impact from the image when it is printed out or digitally displayed in a larger size, so it is quite difficult to demonstrate the 'overall' effect on my website.
I am considering purchasing a Wacom graphic tablet and pen to use with Corel Paint software to take my photo images to the next level. For the moment I am having fun developing my post processing skills and soon I will make the leap into actual painting.

My articles regarding my thoughts and attempts at Photographic Art -
___________________________________________________
1st April 2012
Adobe Lightroom 4 Software!

For sometime I have been using Adobe Lightroom 3 software for all my post processing and recently I upgraded to version 4. Probably the best improvements are the extras in the adjustment brush which now includes a greater range of editing features. I decided to test them out on some images and really push the possible effects that could be achieved.

I had some old 'RAW' images of cemetery headstones taken with my Canon 5D DSLR and my Canon 24-105L lens, so I thought I would bring out the 'gothic' in them or at least try! It is not wise to creep around a cemetery in the dead of night to take pictures in the moonlight especially as the gates are usually locked but the end results might prove more realistic vs my results. However, these images were captured in broad daylight and in both cases it was a very sunny day.

Normally with such images, I might use HDR software to create an atmosphere in the final rendering, to raise the contrast, the dynamic range and adjust the saturation so that the image appears just a little 'spooky' and more akin to a graveyard setting. These type of images never usually appear 'completely' natural, especially in colour and it often obvious that layering, dodging and burning, HDR or a combination are involved in the process but in any case I wanted to push the effects - I like the black and white conversion image.

I just used Adobe Lightroom 4 to post process these 2 images -
The post processing was fairly simple, flatten the entire image by greatly reducing the clarity, add some vignetting and reduce the exposure to darken the entire image. Use the adjustment brush with all it's extra features to paint the adjustments on the headstones - temp, tint, exposure, contrast, highlights, shadows, clarity, saturation and sharpness - also includes adjustments for noise and moiré.

Dodging and burning to highlight or darken different parts of the headstone is easy to apply and can be applied on top of previous brush adjustments. I did not spend a great deal of time on the images, it was just a basic exercise to test out the adjustment brush. Even better the graduated filter also has all those extra features.

This following image is a Adobe Lightroom 4 - BW conversion of the colour version -
___________________________________________________

7th April 2012
Storm Light!

Over here in the UK we don't get the same levels of storm light as the USA or other countries prone to violent lightning storms. Storm light in the UK is more muted but nevertheless it is an amazing 'light effect' created by a heavy dark sky, often with flashes of vibrant blue peaking through and shafts of sunlight striking the landscape amongst the darkened areas.

When it does occur, it is a photographers dream come true and one reason to always carry a camera. The visual effect is usually awesome to behold but often short lived. Landscapes are invariably the shots of choice in such circumstances but the effect (although not to the same extent) can still be seen in other scenes. These images were captured down at Matlock on the edge of the Peak District in England at the 'Steam Festival' and all day, during our visit, the light effects kept changing every few minutes as the heavy clouds rolled over, breaking like waves in the sky and letting the sun shine through. What a rush and what a dilemma as Carol kept dragging me away from my photography.

I managed to get in some shots that day, but given more time, I could have found more interesting subjects and produced even better results. These two images were captured using my Canon 5D MK I DSLR and my favourite Canon 24-105mm f4 IS L lens. They were taken under duress (my excuse) and the combo was hand held. The 'RAW' files were processed yesterday in Adobe Lightroom 4 software with only minor adjustments to saturation, contrast, brightness and sharpness. The 2nd image was taken under amusing circumstances, because as I took the shot, I saw the man searching through his box with a tiny tractor standing alongside - I could not resist shouting, "are you looking in there for the driver" and the woman laughed!
This image was taken with the same combo and it is my favourite. Again post processed the same way as the other two images.
___________________________________________________

20th February 2011
Street Photography - DSLR Cameras?
When you are out and about on the 'street' taking pictures, does the size of the camera matter?

I have never been a avid street photographer, I find that unless I have a definite plan, a project to capture specific subject material at a given location where it is in abundance or I am prepared to wait for a prolonged period until that subject appears, then street photography invariably consists of many shots and very few results. However it has to be accepted that even if one shot amongst many turns out a gem, then it can be worthwhile and deliver a sense of achievement.

I have used all sorts of cameras for street photography,
35mm film SLRs, digital compacts, Micro 4/3rds compact, APS-C & Full Frame sensor DSLRs. I have never experienced any awkward problem using any of those cameras but I do tend to stick to planned projects and events where I am never perceived as an nuisance.

This first image was captured at the Edinburgh Fringe Festival with a Canon 450D APS-C sensor DSLR with a Canon 100mm f2.8 USM Macro lens fitted. It was a day when the street was busy, cameras were everywhere and nobody seemed to mind getting their picture taken. The combo delivered a very nice 160mm 'field of view' which allowed me to stand back a bit and achieve shots through the spaces in the crowds of people. Shooting with a 'prime' lens can be difficult, especially at 160mm but the results are often most excellent and you can achieve a very nice out of focus effect in the background. The 'RAW' file settings are ISO:200, Aperture f3.5, shutter 1/640sec and developed using Adobe Lightroom 3 software with adjustments for contrast, brightness, saturation and sharpness.

I often use my larger 'Full Frame' DSLR for street photography, especially
on holiday. It's size has never drawn much attention and if anyone does purposely look at what I am doing, I invariably produce a nice smile which seems to settle any concern. I know that many street photographers like to get right in amongst the action, mingle with people and even ask them to pose but it is not my style.

I am not exactly invisible but I do like to remain further back and I find that a zoom lens offers greater flexibility when you are shooting through crowds or attempting to isolate the 'primary' subject from the background. A 'prime' lens can achieve the same but with a 'fixed' focal length it is annoying when you miss a shot on occasions where the subject is too close. This image was captured with a Canon 5D MK 1 'Full Frame' DSLR and a Canon 24-105mm f4 IS L Zoom Lens. The 'RAW' file settings are 84mm, ISO:200, Aperture f4, shutter 1/1250sec and developed using Adobe Lightroom 3 software with adjustments for contrast, brightness, saturation and sharpness.

For more information, please read my articles on - Street Photography - Leica Series - Downsizing (GF1) which also include videos and more image samples.

From Wikipedia - "Vivian Maier (February 1, 1926 – April 21, 2009) was an American amateur street photographer who was born in New York but grew up in France, and after returning to the US, worked for about forty years as a nanny in Chicago. During those years she took about 100,000 photographs, primarily of people and cityscapes most often in Chicago, although she traveled and photographed worldwide"

Check out the following video containing some of Vivian Maier's Street Photography and more information on the official website - vivianmaier.com
___________________________________________________
13th February 2012

It's not that Heavy!

A Canon 5D MK 1 DSLR camera and a Canon 24-105L IS zoom lens is not that heavy as a walk around solution.



I
have used this combination on all my holidays since 2006, barring 2010 when I tried out my compact Panasonic GF1 Micro 4/3rds camera and Lumix 14-45mm OIS zoom lens. I can tell you, that having used a 5D 'full frame' sensor camera and the smaller GF1 compact there is nothing that can beat the 'full frame' perspective for those shots that are special even if it means carrying a larger and heavier rig!

I like using the LCD of my GF1 but for sheer pleasure in taking pictures, there is nothing better than peering through a 5D's viewfinder and through the 'optics' of a 77mm lens which is sucking in all that light! The Canon 24-105mm IS f4 L is an impressive lens.

I often read about photographers complaining about the weight of their DSLR and how they have sold of their 'full frame' camera and lenses to purchase a compact solution like Panasonic and Olympus amongst many other 'mirrorless' camera systems with interchangeable lenses. I could never give up my 5D DSLR for a compact, I may use them side by side to compliment each other but parting with my Canon 5D is unthinkable. Even if I purchased a new variant (Canon 5D MK III) I still would never sell off the old one!

I can carry the Canon 5D/24-105L combo around my neck all day using it's supplied shoulder strap and usually I also cup the camera in my right hand lest anyone have a go at stealing it. I never really notice the weight and when I am using it, I slip the rig into various styles of shoulder bags but my favourite bag is the Lowepro 65AW 'Top Loader Pro' (check out the Lowepro site video) which has enough room for the camera with zoom lens fitted plus filters, spare memory and battery.

These images were taken with the Canon 5D + 24-105L lens whilst on holiday -


If you like sunset images, please check out my Sunsets video - please watch 'full screen at 1080p' for the optimum image resolution.
___________________________________________________
24th December 2011
Kai Does Landscapes!
Kai Wong from DigitalRev provides some tips in his landscape video -

I enjoy landscape photography, in my Lowepro Flipside 400AW backpack I carry the following 'reduced' equipment -
Canon 5D MK I 'Full Frame' DSLR Camera

Canon Remote TC-80N3

Canon 1.4x + 2x Teleconverters

Canon 24-105mm f4 IS L Lens

Canon 70-200mm f2.8 IS L MK I Lens

Lee Pro Filter Kit + 77mm Lens/Bracket + Universal Hood

Spare Battery + Memory Cards

Cleaning Kit

Carbon Fibre Manfrotto 055MF3 tripod with a 468MGRC2 Ballhead (slips in bag outside holder)
I used to lug around a Kata HB-207 Backpack full of gear including my 'prime' lenses. The HB-207 is an awesome backpack and brilliant to use. However it is for younger men without neck problems, unfortunately I have to travel light these days.

Please visit my Lee Filter Article for more information on Lee Filters.
___________________________________________________

19th December 2011
Lighten the 'Full Frame' Camera Bag!
The Voigtlander 40mm Ultron f2 SL II Aspherical lens is probably one of the smallest and lightest lenses you can
use with a 'full frame' digital sensor DSLR camera?

This beautiful 'pancake' prime lens can slip neatly into your pocket or in the front or side pocket of a shoulder bag. For those photographers that want a 'middle road' between the 35mm and 50mm focal length, the Voigtlander 40mm Ultron f2 SL II lens is the ideal solution for a broad spectrum of photography. According to Ken Rockwell, it does not display coma on bright points of lights, thanks to it's aspherical glass element, which means it should be good for night street photography?

This lens not only shrinks down the size and weight of 'full frame' DSLRs like the Canon 5D MK II and the Nikon D700 it is an ideal 'prime' to slip in alongside a 70-300mm zoom lens to lighten your 'full frame' camera bag and yet provide an answer for that low light or macro solution, should it arise.

From Robert White website - "The 40/2.0 Ultron SL II lens is a new incarnation of the famed 'pancake' 40mm lens from Voigtlander. This version will be available in Pentax K (PK) bayonet mount, Nikon AI-s mount, and Canon EF mount with the added attraction of an in lens CPU like a P Nikkor for electronic metering coupling and full multi mode operation with AF and Digital SLR cameras. The 40/2 Ultron is supplied with a stylish dome type lens hood and an accessory close up lens to give a maximum magnification ratio of 1:4 (1/4 life size on 35mm film) at a focus distance of 25cm. The rear element is made from ultra high refractive index glass, with both its surfaces aspherical. On a DSLR with an APS C sized sensor, it behaves as a short portrait lens (equivalent to 60mm in 35mm terms) when taking the field of view crop into account"
The following video shot with the 'full frame' Canon 5D MK II DSLR and the 40mm Ultron, displays it's movie capabilities but remember this is a 'manual focus' lens and with it's depth of field scale on the barrel, it is also ideal for pre-setting a 'depth of field' for stills and video.
___________________________________________________

19th December 2011

'Full Frame' The Manual Focus Effect!

I know that many photographers sneer at the thought of using manual focus lenses never mind laying out the money to purchase them but they bring an enormous diversion to your photography. I own a few 'second hand' manual focus lenses in the Nikon AI-s range - a 28mm, 50mm and a 135mm which I roll out from time to time on my Nikon FM3a 'Film' SLR camera and I thoroughly enjoy the experience. My Nikon uses a split/image focus screen which makes manual focus (through the lens) great for achieving 'optimum' focus accuracy and today Nikon AI-s lens can still be picked up second hand alongside new ones. There are many suppliers who sell 'second hand' manual focus lenses and Grays of Westminster is one well worth considering.

The Nikon AI-s range of lenses can also be used with some of the higher specified Nikon D series of 'Full Frame' DSLR cameras such as the D700, D3 and D3X which have an electronic interface with the lenses. In some cases, a split/image (rangefinder style) focus screen can be retro fitted to the camera although the standard one remains most excellent as BOTH are demonstrated in the Zeiss video below.

I started photography in a time when manual focus lenses and 'depth of field' scales were in vogue and now they are returning with a vengeance - thanks to DSLR camera video systems! As well as Nikon there are others, such as Voigtlander and Zeiss who have both maintained the 'high standard' of manufacture for most popular film SLR, digital SLR and film/digital rangefinder cameras.

Autofocus 'prime' lenses in themselves are a sheer joy to use but manual focus lenses bring a new dimension to photography for photographers who have only used autofocus lenses. The interaction with a 'Film' SLR, DSLR or a 'Film' or Digital Rangefinder 'full frame' camera using a manual focus lens really does engage a higher thought process regarding your photography and I claim a higher state of satisfaction when the final image comes through. Using the 'depth of field' scale for video is an added bonus and both Voigtlander and Zeiss are renowned for their smooth 'focus movement' using the ring on the lens barrel.

I could leave it just there but if you want to go the whole 'diversion' hog, I tell you there is no greater satisfaction than using a 35mm 'Film' SLR or Rangefinder camera, a manual focus lens and some Kodak Ektar colour film - Living with Film.

This is a video of a Zeiss manual focus lens being used on a Nikon DSLR -

A link to the Zeiss Lenses Channel -

Zeiss on YouTube

and the main

Zeiss Website.

Another video on Voigtlander DSLR and Rangefinder lenses from the UK Main Supplier - Robert White

-




Other links - Cosina

Voigtlander DSLR/SLR

Lenses - Cosina

Voigtlander Rangefinder

Lenses.
___________________________________________________

18th December 2011

Talking to the Converted!

Kai Wong has released a video from

DigitalRev on the 50mm lens!

I regularly use my Canon 5D MK 1 DSLR and my Canon 50mm f1.4 USM lens and thoroughly enjoy the 35mm 'full frame' experience. The combo is reasonably lightweight and not that large overall (thanks to the lens size) and easy to carry around - no neck or shoulder pain!

Kai is talking to the converted, my 50mm was the first lens that I purchased back in 2006 and it is the ideal focal length on a 'full frame' digital camera to match the human eye. It is the middle ground between extension and compression distortion - a lens for virtually all occasions!



For more information on the Canon 50mm f1.4 USM lens - check out my Canon 50mm Lens and 35mm 'Full Frame' articles.
___________________________________________________

14th December 2011
The Canon 24mm f1.4 L MK II Lens!
When used on a 'full frame' digital sensor DSLR like the Canon 5D, the Canon 24L MK II is an excellent and
versatile lens to have.

Many photographers will use this lens purely for landscapes but it's f1.4 wide open aperture is very capable and even more so when it is stopped down to f2.8 where it is razor sharp.

The-Digital-Picture.com wrote - "The Canon EF 24mm f/1.4 L II USM Lens is, without question, Canon's best-performing (optically and physically) and best-built 24mm autofocus lens. It is also Canon's widest angle lens with an aperture wider than f/2.8 - a full 2 stops wider than all wider angle Canon lenses. This lens looks great, feels great and functions superbly"

I have the older version, the Canon 24L MK 1 lens and I continue to use it on my Canon 5D MK 1 'Full Frame' DSLR. The newer version is marginally better and for that reason it is not worth purchasing to replace mine. I always shoot 'RAW' file format, so post processing addresses the differences between mine and the newer version.

I should imagine that the Mark 1 version is starting to appear 'second hand' and is well worth looking out for!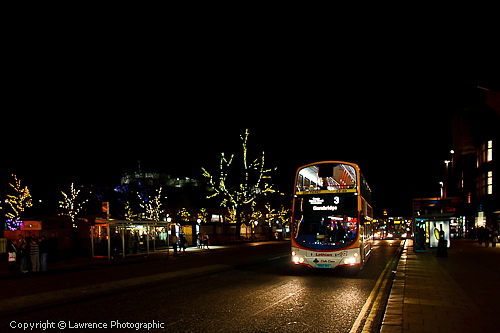 The Canon 24L is a lens which is ideal for shooting landscapes, city scenes, indoors in low light and also night photography. The above image was captured using my OLDER VERSION - the Canon 24mm f1.4 USM L MK 1 lens and my Canon 5D '12MPixel' Sensor MK 1 DSLR. It was shot at ISO:800, aperture f1.6 and shutter 1/100sec to attempt to 'freeze' movement. The 'RAW' file was post processed in Adobe Lightroom with slight cropping and adjusted for brightness, contrast, saturation and sharpening - there was no noise reduction applied.

The image quality is not bad, considering it was a very dark night,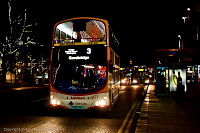 the primary subject was moving quite fast, the camera was 'hand held' and set at ISO:800 with the lens almost 'wide open'. The metering was set for evaluative with centre spot autofocus on the roadway, held by a half shutter press and the scene realigned whilst I waited for the bus to near the pre-determined focus area before taking the shot. Overall the bus image quality is excellent considering it's speed and the camera was set for single shot mode. The white signs on the front of the bus are slightly blown and as a result appear out of focus but the fittings inside it and the man on the top deck can be clearly seen as can the other signs on the front. You can see other people inside at the back on the lower deck and a Christmas parcel on the top shelf of the upper deck. The depth of field at f1.6 is reasonable and the areas outwith it, remain identifiable but with hindsight, I might have managed a shot at aperture f2.8 with a 1/50sec shutter speed and achieved a sharper image overall?
___________________________________________________

9th December 2011

Canon 100-400mm f4-f5.6 IS L Zoom Lens!

A video review from Kai Wong at

DigitalRev. The new version of this lens (rumour) is expected to be released in 2012 - more information further down this page.
___________________________________________________

4th December 2011
Adobe Lightroom Webs!
It's been snowing here today in Edinburgh, the weather is appalling as there is also a mixture of sleet and wind. I suppose it's great weather for the Pandas arriving and apparently they love to roll about in the snow but I stayed indoors and did some conversion work using Lightroom.

I have been using 'Microsoft FrontPage Software' for years to create my photo displays and I still use it for my main web work (I have Microsoft Expression Web 3 but I still prefer FrontPage) and 'gradually' I have been using Adobe Lightroom software to convert the 'old' photo displays over to Lightroom photo sub webs.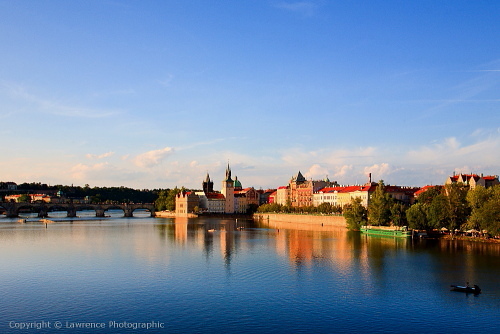 This is one image that was converted in Lightroom for display in this page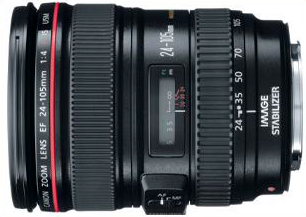 and in my Colour Image Section. It has brightness, saturation, contrast and sharpness applied and was shot 'hand held' using my Canon 5D MK 1 DSLR with a Canon 24-105L IS Zoom Lens.

Lightroom is relatively in-expensive, when you compare it to Adobe CS5 and it is able to deliver a great deal of power in collecting those 'RAW' image files from various 'store' directories on the PC hard drive, cataloging them and facilitating 'fast' post processing, as well as the copyright stamp, to create single jpeg and multiple images in a web for viewing. I have been working today on an 'old' Prague 'FrontPage' sub web - so I deleted it and by using Lightroom it was a breeze to start all over again with those stored 'RAW' files from my PC.


My Canon 5D MK1 DSLR camera and the Canon 24-105mm f4 IS L Zoom lens make for a great combination when travelling and works well in all sort of conditions, especially when taking pictures from moving boats. I don't have any problems with the weight around my neck using the shoulder strap as I also 'cup the rig' in my right hand for extra support which eases any neck or shoulder pain. I can use the rig all day by supporting it in this manner.

The greatest single problem that I have with my web images is that I keep far to many. I just hang onto images that are okay but nothing great. It's the memories they invoke that is at the heart of it all. I would like to add all my 'personal stuff' but the web space would quadruple, especially if I added in all the 'film' digital scans from the last 50 years.

For more image samples from the Canon 5D + 24-105L combo please visit my

Canon 24-105mm L Lens article. The camera picture also features a 50mm lens which I also have and take on my travels for low light photography - you can see some f1.4 'wide open' image samples in my Canon 50mm f1.4 USM lens article.
___________________________________________________
18th November 2011
Early on in the year, I wrote a blog and then moved it to an article on Black & White photography. At that time I wrote -

"To be a photographer or a digital artist that is the question? Whether it is nobler in the mind to 'authentically' photograph the scene and risk suffering the slings and arrows of outrageous criticism and misfortune or to take up extensive post processing to avoid a sea of troubles and so alter the image to one's perception".

I guess a number of readers think I prefer natural images and hate post processing and they would be right but that does not mean that I dislike the actual methodology of post processing - it's the time it takes and the work involved that I hate. The finished image may prove to be a huge improvement on the original and provide a great deal of 'self' satisfaction but many, after half a hour of work, are binned. Perhaps if I spent more time actually learning how to properly post process images and used better software like Adobe CS5, it might become less of a chore?

I put my thoughts down regarding post processing a long time ago in articles on - Post Processing and Photographic Art.

This image is one of my latest post processing efforts using a 'RAW' file and Adobe Lightroom. It was taken today with my Canon 5D MK1 DSLR and my Canon 50mm f1.4 USM Lens (hand held). We were walking the dogs down at the riverside and it was a cloudy sky and the rain had started when this shot was taken. I applied contrast, saturation, sharpness and some vignetting - it has not been cropped.
Some camera 'RAW' files are easier to work with than others, especially if the camera and lens produce excellent dynamic range and a good control of highlights in the original image that is captured. It has always been about the right location, the subject, the correct camera settings, the correct mix of 'natural light' effects, rather than using post processing software to create them. It is much harder these days to find a digital sensor camera that can 'produce' the same dynamic range of professional colour film in a 35mm full frame or 645 medium format 'FILM' camera.

For some photographers, criticism of their talents and photography can be hard to live with. A professional photographer goes out, takes the pictures and for whatever the purpose, weddings, fine art, etc, it is a business, a job, and he sells them on. Most photographers who are into photography as a hobby and most advanced amateurs have long realised that there is no substitute for spending some serious time in getting to know the camera and lenses they are using. Once the shutter is fired and whether it be a jpeg straight out of the camera or a 'RAW' file which has more latitude - it is often the case, that the image does require some tweaking in computer software to 'lift' the final presentation and make it more appealing to the eye - I should know, with my 'limited skills' I have done it myself!
___________________________________________________
3rd September 2011
The Canon 24mm f1.4 L MK II Lens!
One of the first lenses that I purchased back in 2006, was a Canon 24mm f1.4 L MK I. I use it for landscape photography on my Canon 5D DSLR but I have had the most fun using it on a Canon 450D DSLR where is delivers a 38mm 'field of view' and makes for a very nice 'everyday' combination.

Kai Wong at DigRev has reviewed the newer version of it, the Canon 24mm f1.4 MK II L Lens.

___________________________________________________
29th August 2011
Probably the Finest 100mm SLR Lens?
I use the Canon 100mm f2 USM lens on my Canon 5D MK I DSLR and I reckon it is one of the finest around. I used it to capture the image of my 'grandson' in the main picture of this blog page which was softened in Adobe Lightroom and converted from the original colour 'RAW' file.

However, there is an even better lens and that is the 'manual focus' Zeiss 100mm f2 Makro-Planar T* lens - see the video!

___________________________________________________
22nd August 2011
The Canon 50mm f1.4 USM Lens - f1.4 'Wide Open'
When I travel abroad, I invariable take my Canon 5D MK I DSLR and my Canon 24-105L Lens. As a backup, I always take along the Canon 50mm f1.4 USM Lens and pop it in a corner of my shoulder bag.

The 50mm f1.4 is probably one of the cheapest Canon lenses available and it was my very first purchase. For the life of me, I don't know why I have taken it for granted and why I don't use it more?

The lens is a pleasure to use on my Canon 5D and most suitable for 'low light' shots at aperture f1.4 wide open and especially for night shots, even when the combo is hand held.

The lens hood can be reverse fitted and the lens is lightweight and compact in the bag.

These three shots were all taken 'hand held' with the aperture wide open at f1.4 with the Canon 5D DSLR. The 1st one is a ISO:1600 example and the remaining two are ISO:800.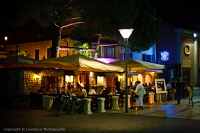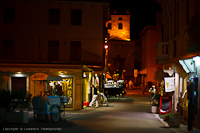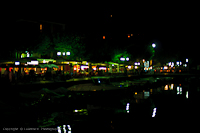 All the reviews that I have read, state that the Canon 50mm lens is soft at f1.4 and sharp thereafter but I have
no complaints regarding it's performance at f1.4 wide open.

This 'sunset and boats' image was taken at aperture f5.6 with the shutter speed raised to 1/800sec to 'freeze' the boat movements on the water.

I love the colours from this lens with the 'full frame' Canon 5D MK I DSLR camera and all the images in this article were shot as 'RAW' files and post processed in Adobe Lightroom. Very little post processing was applied, no noise reduction and only slight tweaks to saturation, contrast and brightness.

There is a serious bonus to using this lens on a Canon 5D MK I DSLR and that is, there is usually very little to 'post process' when converting 'RAW' files to tiff and jpeg formats.

The Canon 50mm f1.4 USM Lens specifications are -
7 Elements in 6 Groups

8 Blades

Fast f/1.4 aperture

Standard 46° angle of view

USM focus motor with full-time manual focus override

45cm closest focusing distance

Aspherical lens element

58mm filter size

Weight 290g
___________________________________________________
11th August 2011
Are You Crazy?
I often visit the 'photographic gear' forums for other peoples opinions on emerging technology
and I am amazed just how many photographers write about giving up their 'full frame' sensor camera, usually a Canon 5D MKII DSLR for a Micro 4/3rds system.

The old clichés are spouted, it's too heavy, it's too big and I hate lugging it about when travelling abroad. The lenses are massive and my shoulder bag is becoming larger.

Personally, I think it is a 'unfulfilled' condition, like a person with a car,
who gets fed up with it, sells it for another one and then wishes they had kept the original one.

They should invent a proper name for this condition, not 'gear head' because it is not the desire to purchase gear for gears sake, I think it is the subconscious hidden desire to find fulfilment in your photography.

I have always wanted a more compact and lightweight DSLR but not at the expense of losing the performance from a 'full frame' digital sensor. Other than for financial reasons, why would anyone in their right mind spend all that money to finally own a 'full frame' sensor camera and some nice lenses, then flog it all for a Micro 4/3rds camera or even a APS-C sensor camera?

I use my GF1 kit for a few weeks and then put it down and pick up my Canon 5D MKI DSLR, what a blast and vice versa............there is nothing quite like a 'full frame' DSLR and there is nothing quite like a GF1 Micro 4/3rds camera.
___________________________________________________
20th July 2011

The Canon 24-105mm f4 IS L Lens!
If I had to select only one lens to use on a permanent basis with my Canon 5D Mark 1 DSLR camera it would be the Canon 24-105L Zoom.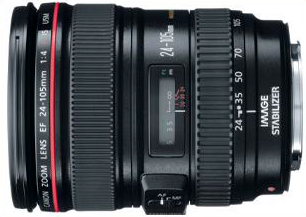 This lens is not without its 'wrinkles' but they are easily overcome, either with very careful photography or at worst with a little work in software post processing. The image quality combined with the dexterity of the lens more than makes up for it.

The only time that I leave this lens at home is when I want a change and concentrate on using my Canon 'prime' lenses or use another camera combination.

This is the ultimate 'travel' lens on a 'full frame' digital sensor Canon DSLR camera. It will not let you down whether you are standing on 'terra firma' or shooting images from a moving boat or peering through the dead of night under street lamps or indoors without flash, for that magic picture and perhaps that 'once in a lifetime' picture. It also makes for most excellent monochrome images!

I have travelled a great deal with this lens and for more more information about my 'travels' with some image samples Canon 24-105L L Lens
___________________________________________________
20th July 2011

The Zeiss 35mm f1.4 T* Distagon ZE Lens!
This lens is now available in the UK in ZE (Canon) and ZF
(Nikon) builds. The reviews are mixed for image quality at f1.4 which for 'street' photography on a 35mm lens is desirable to produce excellent 3D bokeh style images. More on the reviews at Zeiss Rumours.

This Zeiss lens is beautiful but large, heavy and it seems that to combine it with a Canon or Nikon 'full frame' sensor DSLR, I would have to endure a camera and lens weighing around 1,670g in my hand. Certainly for 'street' photography and 'niche' projects it will require serious consideration but it is an unlikely purchase.

When will Nikon and Canon recognise that I am not the only photographer who desires a top quality 35mm f1.4 lens with a 'full frame' sensor DSLR camera that are both compact and lightweight.

I have more information about this lens with some video links Zeiss 35mm f1.4 Lens Article
___________________________________________________
15th July 2011
The Ideal Focal Length!
It is no coincidence that Henri Cartier-Bresson preferred a 50mm lens on his Leica 35mm 'Film' rangefinder camera. Henri was a man that started with art and painted the scene as caught by his eye.

Henri's 50mm lens produced a true 50mm 'field of view' and delivered an image very similar to a scene as seen by the human eye and with minimum distortion. It also provided the 'optimum' camera to subject to background distance ratio, depth of field and on subjects (especially the entire body of a person at a reasonable distance away from the camera) he had the ability to create a 3D effect where the person is separated from a blurred (out of focus) background with a creamy smooth bokeh effect! Today's version of his kit is the Leica M9 digital 'full frame' rangefinder and Leica 50mm f1.4 ASPH Summilux M manual focus lens.

Many photographers have abandoned the
50mm lens on a 'full frame' sensor digital camera and prefer the 35mm 'wider' lens for their everyday shots. A 35mm focal length lens will provide a wider 'field of view', where the background is pushed further back from the primary subject and a photographer can still manage to create a 3D and bokeh effect, especially if the lens has excellent image quality when wide open at aperture stop f1.4 or f2. However, the photographer has to take up a position much closer to the subject, especially when capturing the full body of a person and the effect will never match the perspective of the 50mm lens.

I am still hunting around for the perfect 35mm lens for my Canon 5D MKI DSLR but most are too large, heavy and lack the desired image quality when used wide open. Sometimes I figure that a 35mm is a mistake and I should stick with a 50mm. My current favourite choice for an upgrade would in fact be a 'manual focus' lens - the Zeiss 50mm f2 ZE Makro Planar. I would prefer an autofocus lens but the Zeiss is probably the leader for image quality?

For an interesting review on the Zeiss 50mm f2 ZE Makro Planar, visit Photozone

More on Full Frame photography and more on Henri Cartier-Bresson.
If you have enjoyed this article - please donate to my Charity of Choice - The Sick Kids
Richard Lawrence
Scotland
United Kingdom