Recently, I became interested in typical 1960s 'Classic Style' motorcycles and the Triumph Street Twin is one I am considering. Its a bike that is derived from the Triumph Bonneville and can be retro fitted with numerous accessories and a choice of optional tank paint schemes to make it your own.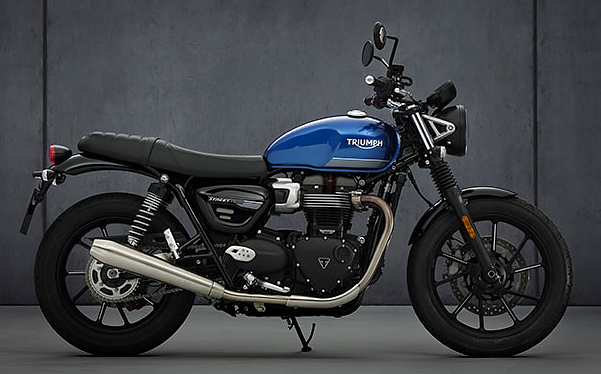 Introduction video and more video reviews below -
I rather like the blue tank version and my list of accessories would be -
Centre Stand Kit

Grab Rail (Black)

Alarm

Tank Top Pad

Knee Pads

Bar End Mirrors

Heated Grips

Black Dresser Bars

Engine Protectors

Front Fork Protectors

Radiator Protector

Waxed Cotton Luggage (Twin Set)
A smaller rear number plate from

Fancy Plates.
The Glory Days of British Motorbikes
The Street Twin harks back to the 1960s and to a certain extent has kept true to the 'classic' tradition of a 1960s motorcycle, albeit the kick starter which has been replaced by an electric start. Hopefully, one day the kick starter will make a comeback on 'classic' retro styled motorbikes.
Technical Data
The Technical Data includes a 765mm seat height and a wet weight of 216Kg. The performance from its 900cc air cooled twin cylinder engine delivers 65 PS, 64.1 bhp (47.8 kW) at 7,500 rpm and 80 Nm of torque at 3,800 rpm.

Shoei & Bell Open Face Helmets & Halcyon Goggles
One item that I will definitely consider is a open face helmet and Shoei J-O Helmets are probably the best ones on the market and they come with a flip down visor. There is also the Shoei RJ-Platinum-R style that has a top fitting small sun visor peak that can be removed to allow you to fit a standard 5-snap GT visor design to stay compatible with other aftermarket compatible visors and shields. Of course you can stay with the stock top sun visor peak and opt to wear goggles or ballistic lens sunglasses. Bell is another helmet manufacturer which provides a great range of open face helmets and is worth considering. Their Bell Custom 500 range as well as their Bell Scout Air range is worth checking. Halcyon probably make the best range of quality goggles and they can be purchased from Halcyon Classic Parts.

See the videos on Shoei and Bell helmets below -

A video on the Shoei J-O Helmets -
A video on the Shoei RJ-Platinum R Helmets -

A video on the Bell Scout Air Helmets -

A video on the Bell Custom 500 Helmets -