I have the desire to own a 'Heritage Classic Style' motorbike. The Triumph Bonneville T120 Motorcycle certainly ticks the boxes. However a couple of hours on a test ride, fails to explore the long-term impact of living with the bike, especially how it copes with the weather in the UK.

Disseminating the reviews on the Bonneville for the 'deal breakers' is a tricky business because most of the reviewers do not want to cross swords with the manufacturers and dealers. Afterall, the vast majority of the reviewers on YouTube are in the business of making money and require the loan of motorbikes to review. However, there are a few out there that don't pull back on their negative analysis of the Triumph Bonneville.

The 2021 Technical Specifications are impressive with a liquid cooled, 8 valve, SOHC, 270° crank angle parallel twin 1200cc engine, 80 PS / 78.9 bhp (58.8 kW) @ 6550 rpm power and 105 Nm @ 300 rpm peak torque. The seat height is 790mm and the wet weight is 236Kg.

The Heritage of the Triumph Bonneville T120 stretches all the way back to the 1950s and the bikes remain very similar, albeit for the technical advancements of the latest Bonneville. The 1950s Bonneville had an air cooled 650cc parallel twin engine, so the water cooled 1200cc HT parallel twin engine of the 2021 bike is quite a leap forward.

Note: I have included some video reviews at the foot of this overview.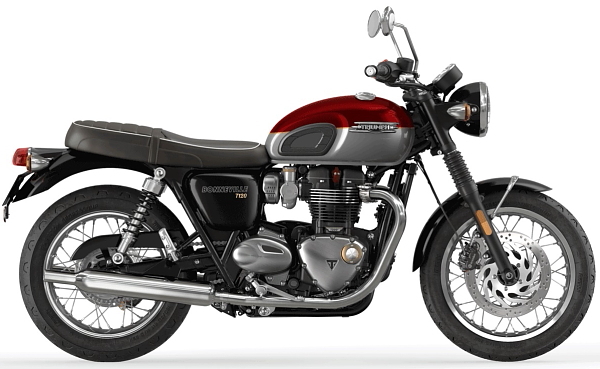 The idea of taking it easy (for a bit) and cruising along country lanes to the next cafe, appeals to me - I do love a bacon roll, or two, with a mug of tea. Perhaps a cruiser would make for a nice change of pace with a 1960s style throaty exhaust burbling behind me, as I ride along.

I have checked the colours and I prefer the Red above -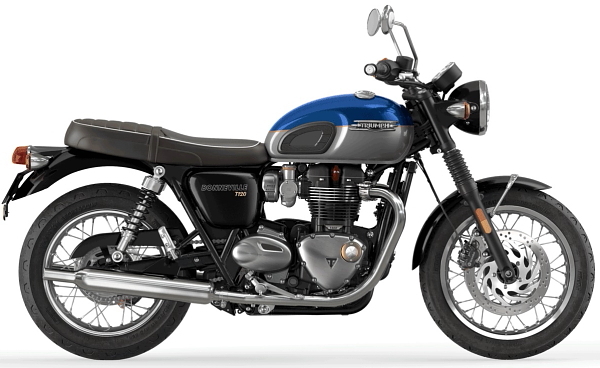 The Red T120 is perfect for me with its mid foot controls, legs slightly tucked, rather than straight out, like on a cruiser, and a gentle seating position, slightly leaning forward to the handlebars.

My Options Choices -
Centre Stand

Heated Grips

Chrome Grab Rail

Chrome Dresser Bars

Alarm System
Another motorcycle which I am considering is the Royal Enfield Interceptor and this 2019 comparison video vs the Triumph T120 Bonneville is illuminating and well worth watching to the end -

Stuart Fillingham covers the good and the bad of the Triumph T120 -
Video Reviews