The new Royal Enfield 350cc Classic was recently announced and I must admit it looks the business. They have kept the 'classic' retro style and added some modern technology. Surely the ideal motorbike for an easy ride down country lanes and to stop for lunch or even better, a picnic where you can sit and admire the view - the Classic 350 as well.

Check out the Technical Specifications and Accessories.

The bike is a steal at around £4K in the UK. It would make a great all rounder for those starting out on motorbikes and for those who love country blasts on their sports bikes, a nice 2nd bike to take it easy on any Sunday. I like the chrome red tank variant -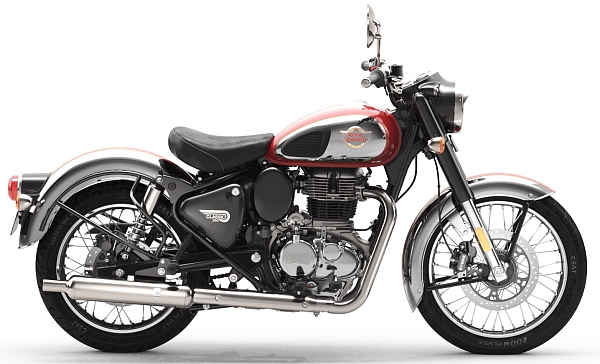 The Glory Days of British Motorbikes
The Royal Enfield Classic 350 has a single cylinder 350cc engine which falls way short of the power of a 'classic' twin cylinder 650cc motorcycle like the Royal Enfield Interceptor but nevertheless the 350 has nice lines and more than enough power for an easy ride on country roads.
Technical Data
The Technical Data includes a nice 805mm seat height and a wet weight of 195Kg. The performance from its 350cc air cooled single cylinder engine delivers 20.2 BHP at 6,000 rpm and 27 Nm of torque at 4,000 rpm. I am thinking that 350cc is enough for an ultra easy ride through the countryside and to enjoy the burble of the exhaust note. Fitted with ABS, the Classic 350 is stripped out of all rider aids and is a bare bones motorcyle.

Shoei & Bell Open Face Helmets & Halcyon Goggles
One item that I will definitely consider is a open face helmet and Shoei J-O Helmets are probably the best ones on the market and they come with a flip down visor. There is also the Shoei RJ-Platinum-R style that has a top fitting small sun visor peak that can be removed to allow you to fit a standard 5-snap GT visor design to stay compatible with other aftermarket compatible visors and shields. Of course you can stay with the stock top sun visor peak and opt to wear goggles or ballistic lens sunglasses. Bell is another helmet manufacturer which provides a great range of open face helmets and is worth considering. Their Bell Custom 500 range as well as their Bell Scout Air range is worth checking. Halcyon probably make the best range of quality goggles and they can be purchased from Halcyon Classic Parts.

See the videos on Shoei and Bell helmets below -

A video on the Shoei J-O Helmets -
A video on the Shoei RJ-Platinum R Helmets -

A video on the Bell Scout Air Helmets -

A video on the Bell Custom 500 Helmets -