Last Updated - 5th January 2016



Panasonic has announced the new Panasonic TZ100 compact which promises to be an outstanding travel camera with its Leica 25-250mm (field of view) zoom lens in ratio 3:2/20Mpixel (5472x3648) 1" sensor mode.

Check out more - Camera Images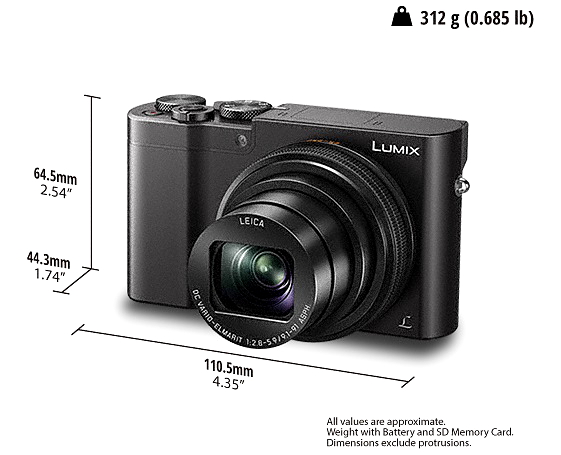 The new Panasonic TZ100 could also prove to be the ideal compact camera for a motorcyclist as its body dimensions (lens detracted) means it could easily slip into a jacket or trouser pocket. The camera is due for sale in March 2016 and will cost £549.00 vat inclusive in the UK and a silver variant which also costs £549.00.


This is a compact camera with image stabilisation that could be used 'handheld' for street, landscapes and portraiture photography. It's f2.8 aperture at 25mm (field of view) should prove excellent for low light images. It also boasts 4K video which makes the TZ100 not only a powerful solution for stills photography but also for creating home movies.

From the Internet - "The Panasonic LUMIX DMC-TZ100 digital camera in black is the perfect pocket-sized travel companion for those looking for the freedom to explore and capture high-quality stills and videos as they go. This versatile compact is ready to capture images in a variety of environments, thanks to its versatile 10x Leica zoom lens (25-250mm) and powerful 1.0" sensor, which together deliver more detail, colour, and clarity in stunning 4K quality. Additional features include the Post Focus function, a Live View Finder, built-in pop-up flash and a 3.0" LCD".

Check out - Panasonic TZ100 Camera Features & Technical Details


The new Panasonic TZ100 - See the world in a whole new light -

A pocket-sized travel companion for those looking for the freedom to explore.
Leica lens - 10x optical zoom

Wide 25-250mm, F2.8-5.9

20-megapixels

1.0" sensor MOS sensor

4K Photo & 4K Video, Post Focus

3" touch LCD (1,040k dot)

EVF: 0.2" 1,166k dot, eye sensor

ISO 200-12800

Creative functions/manual operation: control ring, manual focus, peaking

Power OIS (Photo) / 5-axis Hybrid O.I.S. (Video)

Wi-Fi connectivity
LUMIX TZ100 - The ultimate travel companion
There's nothing like the feeling of freedom. Explore the world and capture every moment, with a camera that moves as you do. As at home in a past-paced city break or out in nature, its powerful 10x zoom and high-performance 1-inch sensor mean it's never been easier to make travel moments last forever.
Travel Companion - Small size, big adventure.
The LUMIX TZ100 has been designed with power and function in perfect balance. A crystal-clear LEICA zoom lens accompanies a stylish pocket-sized shape. No more bulky camera bags or weighty equipment, just power and portability in perfect harmony.
Low light (1 inch sensor & Picture quality) - Capture day & night
Just because the sun goes down, doesn't mean your camera has to as well. Keep capturing into the night, with the powerful 1-inch 20-Megapixel MOS sensor of the TZ100. More detail, more colour and more clarity, even in low light.
10x Zoom - Stunning shots are closer than you think
When you just can't get closer, the powerful 10x optical zoom of the LUMIX TZ100 helps you get the shot. Featuring a world-famous LEICA DC ELMARIT lens, its powerful zoom offers incredible flexibility, ranging from 25mm-250mm. Perfect for capturing the sights; both near and far.
Post Focus - Shoot now, focus later
Imagine being able to decide exactly what you want in focus, even after you've taken the photo. The Post Focus function on the LUMIX TZ100 gives you the power to do just that. Simply capture the scene, review the image and touch the part of the photo you'd like to be pin sharp. It's simple, stunning and all inside the LUMIX TZ100.
4K Video. Life in vivid detail
With the stunning power of 4K Video, the TZ100 allows you to record your journey in up to 4x the quality of Full HD. More excitement, more detail and even more memories to look back on; again and again.
Unmissable moments with 4K PHOTO
Thanks to 4K technology inside the TZ100, 4K PHOTO allows you to capture the perfect moment in 30fps, and select your best photo after shooting. Shoot, select and save. With 4K PHOTO mode on the LUMIX TZ100, make moments, truly unmissable.
Live view finder (LVF) - See it all
Sometimes, harsh sunlight makes even the brightest camera screens difficult to see. The LUMIX TZ100 features a Live View Finder which automatically turns on when you lift the camera to your eye, so you can see every detail and capture the shot you're looking for.