Last Updated - 30th December 2014



September 15, 2014 - Panasonic is proud to introduce the DMC-LX100 (LX100) with Micro Four Thirds High Sensitivity MOS Sensor for the 6th generation model of Panasonic's world-renowned LX high-end compact camera series. The new LX100 is not just a successor to the DMC-LX7 but a jump-up that even inherits the DNA of DMC-LC1 - the Panasonic's first full manual compact camera released in 2004. The LX100 will be available at www.shop.panasonic.com and valued
channel partners at the end of October.

To achieve even higher picture quality and multi-aspect capability, the LX100 incorporates the Micro Four Thirds High Sensitivity MOS sensor. It lets subjects stand out of the background impressively with a rich stereoscopic effect. By keeping the resolution at 12.8-megapixels, the amount of light is enough to improve the S/N ratio, making it possible to capture clear image with minimum noise even when shot at high ISO. The Venus Engine is also newly developed to feature multiple noise reduction systems such as Multi Process NR, Random Filter and Aperture Filter, to achieve high color reproduction and high image quality with natural description.

A newly developed LEICA DC VARIO-SUMMILUX lens (35mm camera equivalent: 24-75mm) boasts f1.7-f2.8 high speed and
high descriptiveness in detail and resolution to each corner. It also produces stunningly beautiful defocus together with the large MOS Sensor. In addition, newly adopted 9-blade aperture diaphragm help produce bokeh with a smooth, circular shape. The versatile zoom range of 24-75mm (35mm camera equiv.) is suitable for wide-ranging photography to portraits. Notably, landscapes can be captured in dynamic 24mm ultra wide angle in any 4:3, 3:2 or 16:9 aspect thanks to the multi-aspect sensor.

The LX100 integrates a LVF (Live View Finder) with 2764K-dot equivalent high resolution and approx.100% color reproduction. This 16:9 Wide Screen LVF boasts approx.1.39x / 0.7x (35mm camera equiv.) magnification and 100% field of view. A variety of advanced functions are equipped with DMC-LX100 to spur potential of advanced photographers. It allows direct, intuitive control with dedicated rings and dials such as aperture ring, control ring, shutter speed dial or exposure compensation dial.

The LX100 is capable of smooth, high quality video recording not only in Full-HD 1,920 x 1,080 60p (NTSC) AVCHD Progressive (MPEG-4 / H.264) format or MP4 at 60p (NTSC) but
also in 4K (QFHD 4K: 3840x2160, at 30 fps (NTSC) in MP4). With this 4K video recording capability, Panasonic is proposing a new way of photo creation called "4K Photo". By grabbing a 3840x2160 8-megapixel equivalent image from the 4K video footage it is possible to capture the spur-of-the-moment which is often missed in still photography. This functionality is now easier with the newly added Hybrid Photography 4K Photo mode.

The LX100 is also superior in response. Featuring newly combined DFD (Depth From Defocus) technology made famous in the LUMIX GH4, not only accuracy but also speed is improved to achieve Light Speed AF of approx. 0.14 sec to capture fleeting shooting photo opportunities. High speed burst shooting can be shot at 11 fps in full resolution. It also complies with max.1/4,000 (mechanical) and 1/16,000 (electronic) high speed shutter speed.

For more creative
freedom, Creative Control (Filter), Creative Panorama and Photo Style are available. Notably, aperture and shutter speed can be adjusted while applying Creative Control filter, to further inspire the photographers' creativity. The LX100 integrates Wi-Fi® connectivity (IEEE 802.11 b/g/n) with NFC (Near Field Communication) technology camera to offer more flexible shooting experience and instant image sharing with easy operation. More practical functions including Focus Peaking, Level Gauge, WB (white balance) bracket, highlight/shadow control are also equipped. Now LX100 can develop RAW images into JPEG in camera. A compact external flash (GN7/ISO100, GN10/ISO200) that goes with the body color of the camera is bundled to be mounted on the hot shoe.

While the interchangeable lens camera should pursue performance and functionality, compact cameras are more intuitive tools that simply drive people to photography. Combining the best-possible components with state-of-the-art Panasonic's digital/optical technologies, LX100 is the one and only digital premium compact camera of this age that surely satisfies users not only with the high picture quality but also with a host of advanced functions and operational ease.

More - Panasonic LX100 Camera Link


Thoughts - 15th September 2014

The new Panasonic LX100 compact camera has just been announced and my initial reaction is WOW!

The LX100 measures up at 4.53" in length, 2.6" in height, 2.17" in depth and weighs in at 393g which is larger and heavier than the Sony RX100 III compact camera which measures up at 4" in length, 2.28" in height, 1.6" in depth and weighs in at 290g.

I want a smaller compact camera with a fixed zoom lens to fit in my motorcycle leather jacket side pocket for those times when I want to ride my bike without the hassle of luggage or even a small camera bag. The new LX100 ticks all the boxes and then some and I already know that a Four Thirds digital sensor can deliver the image quality I require.

I like the fast Leica Summilux zoom lens with it's f1.7/f2.8 aperture and 24-75mm field of view - ideal for a wide spectrum of scenes. The LX100 Four Thirds digital sensor is similar in pixel numbers to my Micro 4/3rds Panasonic GF1 compact system camera and with the new 2014 technology there should be a reasonable improvement on the image quality I get from the GF1 which is already superb. The manual controls of the LX100 hit the ground running and rival those of the GF1.

For a comparison, I retrieved my GF1 from the cupboard, removed it's 'clip on' electronic viewfinder, fitted my Lumix 20mm f1.7 ASPH prime lens and the combo is larger than the LX100 compact. The GF1 combo measures out at 5" in length, 2.8" in height, 2.75" in depth with a UV filter and lens cap fitted and easily slips into the side pocket of my leather jacket albeit with a bulge showing which spoils the line of the jacket.

The LX100 is the compact camera that I was seeking back in 2009 when I purchased the GF1 and today Panasonic have finally delivered the goods, albeit 5 years later. The LX100 is available in the UK on pre-order for £799.00 vat inclusive.

I intend to wait as I don't require a new compact until the spring of next year, it Pays to Wait and in any case the Sony RX100 III is no slouch for image quality, it is slightly leaner and remains extremely desirable - check out both camera sizes at Camera Size (give the link time to load the camera images)
___________________________________________________

16th September 2014
When is a Compact Camera a True Compact?
The debate on many 'gear forums' has already commenced as to whether the Panasonic LX100 is truly a compact camera?


Make no mistake, the Panasonic LX100 from the 'first impressions' I have read on the internet is a superb piece of kit and brings to the table a powerful camera capable of delivering excellent 'RAW' and jpeg image files in a small package. Actually it is extremely hard to resist placing a pre-order for one.

However, perhaps the word 'compact' has different interpretations amongst photographers because to some the LX100 is diminutive compared to a DSLR camera and to others it is not diminutive enough to slip into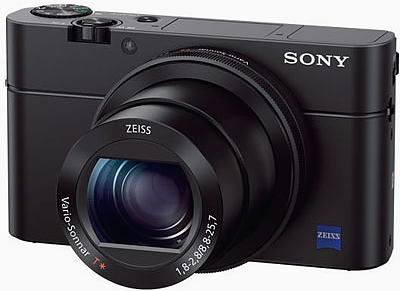 the top pocket of your suit.

The LX100 will not fit into a trouser pocket without some discomfort which ensures a funny way of walking. It will fit into the pocket of a leather jacket albeit there will be a bulge which distorts the line of the jacket and similarly an anorak and it will fit into the large pocket of an overcoat but who wants to wear an overcoat in the summer? This means that it is entirely likely that the Panasonic LX100 will end up being carried in a small waist bag attached to a belt or in a shoulder bag or a hand bag.

Therein is the conundrum for many a photographer who I guess would prefer the LX100 over the smaller and lighter Sony RX100 III compact camera BUT doesn't want to carry the LX100 around in a bag - check out both camera sizes at Camera Size (give the link time to load the camera images)

I have yet to see image samples from the Panasonic LX100 compact BUT up to A3 print size or 1650pixel image web size the Sony RX100 III more than holds it's own for resolution vs noise and a clean image up to ISO:3200 with my Fujifilm X100s compact camera.
___________________________________________________