Introduction
Motorcycle security is a huge concern for bikers, especially those who require a motorcycle to travel to work and for those who have spent a humongous amount of money for their pride and joy.

There is no such thing as 100% security but you can deter thieves and make it extremely difficult for them to steal your bike, even the rare crazies who steal them from the roadside and put them in a van.

I have listed logically the order of security in which you can deter thieves.

WARNING: Motorcycles, especially brake disc plates vary in size with differing air holes and slits in the plate, so please make sure that your choice of disc lock, padlock, chain, etc, will fit your bike - in particular if you are fitting a disc lock to a rear wheel brake disc plate which is a better option than the front wheel. Please be advised that I cannot be held responsible for any recommended security device in this article that fails to deter thieves and prevent a motorcycle theft.

I receive no remunerations from any links to products in this article but if it has helped you in any way, I would appreciate a donation to the The Sick Kids

The Motorcycle Steering Lock & Immobiliser
The vast majority of motorcycles, certainly all the new ones have steering locks fitted. It is not rocket science to lock the steering on the bike and put the ignition key in your pocket. This is the first line of defence to deter a thief.

Many new motorcycles are also fitted with an immobiliser which is married to special ignition keys from a master key (keep the master key secure in your house) and from which any lost keys can be reconstructed and replaced by the manufacturer or dealer.


The Data Tag System
The vast majority of motorcycles that are stolen are for joy riding, especially scooters and lightweight street bikes, like roadsters. In these cases the Data Tag System is unlikely to deter such opportunist joy riders who just dump the motorcycle after use.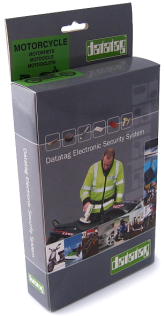 Expensive bikes such as Harley Davidson cruisers and Honda, Suzuki, Kawasaki, Triumph, Ducati, Yamaha, MV Augusta and Aprilia sports bikes are stolen to be broken up for parts.

Whether your motorcycle is brand new or second hand you can Data Tag the parts of the bike - the dealer can apply this security at the time of purchase or you can do it yourself with a kit, costing around £59.00 vat inclusive.

After applying the etching to the motorcycle, the dealer or yourself will register it in your name and address with Data Tag. The Data Tag Security System is labelled on the bike, so any potential thief is warned that it has been etched into the bike parts.

The kit includes -
· Lifetime registration with no annual fees
· 3 x DAT 300 transponders
· 2 x DAT 100 transponders
· 2 x Datatag warning decals
· 12 x Datatag stencils
· 1000 x Datadots (approximately)
· Glass & plastic etching chemicals
· Full instructions


The All Weather Cover
Imagine a thief comes up to your house in the dead of night or even during the day when you are away on holiday. All the curtains are closed and he cannot
be sure that the house is unoccupied because he cannot see into any of the rooms. All the doors and windows are locked, so rather than create a noise by forced entry, he decides to move on. After all if he entered the house after a forced entry, he could be met by a huge bloke, like me, that will break his arms and legs.

The all weather cover (not a brand name like Ducati) does not have a huge bloke hiding under it but the opportunist thief does not know what make of bike is covered and even more, he does not know if there is an alarm fitted. Likewise, in the garage, the door is sometimes open to public view, so keeping a bike covered is a wise decision. Covers are a good line of defence and you can purchase lightweight travel covers for when you are touring on holiday. Remember to purchase one that completely covers the wheels as some brands of motorcycles have certain types of wheels that make them easy to identify.

I recommend any of the Oxford Weatherproof Covers which do not convey what brand of motorcycle is underneath. The indoor covers are suitable for covering the bike in a garage. If garages are constructed whereby rodents such as mice can enter (typically farm garages) remember to lay down CONTROLLED poison or you might find the cover and plastic parts and seat foam of the bike will end up in mice nests.


The Motorcycle Alarm System
The majority of motorcycle manufacturers or dealers will fit an alarm system to their bikes, either their own brand or one from a third party. Invariably they are worked by a small remote control that is either on the key ring or carried in your pocket. These type of alarms are activated when someone moves or jars the motorcycle - many will reset after a few minutes and leave indication on the bike that the alarm had been activated. Costs vary from a few hundred pounds and upwards.


The Anchor System (Garages & Driveways)
If your motorcycle cannot be chained to a street post, railings or similar secure immovable point then consider an anchor system. This is a folding metal loop on a flat or rounded plate bolted into the driveway or garage floor at a convenient place,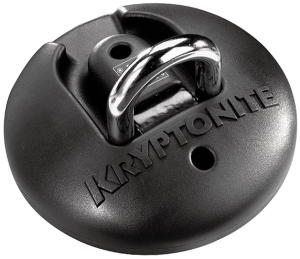 avoiding areas where the length of chain attaching the bike, might not reach
around the bike. I recommend the Kryptonite Stronghold Anchor with the folding metal loop that lies flat inside the casing when not in use.

Ideally the motorcycle is attached to the anchor loop with a 16mm thick ultra high security chain which is then looped around the bike frame and if possible, include the rear wheel.
I recommend the Oxford Nemesis OFN20 which is a 2 metre length of heavy and very thick high security chain.

The chain is secured, using a 16mm padlock with an alarm system embedded in the padlock casing. I recommend the Oxford Big Boss 16mm Alarm Lock - OF4 Model

The alarm padlock and chain should be Thatcham Approved and of the highest security. Typically this kind of system is in excess of £200.00 but a small price perhaps in relation to the costs of a £12,000.00 bike?

If you choose the high security alarm padlock, you can also use it for the next section (padlock only) for when you are out on trips or touring.


The Alarm Disc Lock OR Alarm Padlock with Optional Chain (Short Trips & Touring)
When the only security you can carry is a disc lock, then purchase a high security variant that is alarmed and fit it to the rear wheel disc plate.

A front wheel is easy to remove whilst a rear wheel is more difficult. I recommend
the Oxford Alpha XD-14 Alarm Disc Lock. NOTE: Please make sure it fits the rear brake disc plate on your motorcycle.

Alternatively use the high security alarm padlock from the previous section and to increase the security, add a lighter high security chain (lighter for carrying on the bike)
that you can wrap around the bike frame, the rear wheel and be secured by the alarm padlock. If there are two bikes, perhaps your mates, secure both bike frames together, using the chain - attached around the rear arms.

The disadvantage of a chain system is the size and weight for carrying on the bike. Not such a problem with a touring motorcycle with side panniers but could be a problem for a sports bike when you are on trip to a cafe to meet up with your mates.

I recommend the Oxford Big Boss Alarm Padlock and Chain OF7 which has a lighter 14mm shackle padlock and a lighter 12mm x 1.2 Metres chain size.


The Tracker System
The tracker system is an electronic tracker hidden in the motorcycle and registered with the tracking company. Thereafter if the motorcycle is stolen, it can be activated and tracked via GPS. The police respond to recover the motorcycle and hopefully catch the thief. There is an annual fee to the Tracker company for monitoring the system. Unfortunately, it is not a preventative theft system as by its very nature it is hidden in the motorcycle.


Deterring the Theft of a Motorcycle - Thieves Using a Van
Imagine you have parked your very expensive £16K Aprilia Tuono 1100 Factory sports bike on the road some yards from your favourite cafe and you are in there enjoying a coffee with your mates. You have left your motorcycle secured.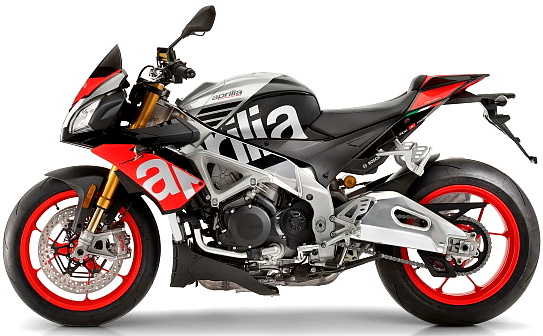 Minimum Security Required:
The motorcycle steering is locked

The motorcycle is Data Tagged with the warning labels easily seen

The motorcycle is fitted with its own high pitched 'vibration activated' alarm system

Each wheel has an alarmed disc lock fitted (2 Vibration Alarm Disc Locks required)
Invariable van thieves come in a pair so when they attempt to steal your motorcycle, they have to accomplish the deed at lightning speed. It is extremely difficult to lift a 209kg Aprilia
motorcycle completely off the deck at a height of about 2 feet and carry it over and into the rear of a van, especially with the bike alarm is in high pitch wail and 2 disc alarms are assisting.

Yes, four thieves could put the motorcycle in the van and there would
be a lot of noise to contend with but in any case they would have second thoughts about stealing the bike when they recognise the twin alarm disc padlock security and that every single part of the motorcycle had been Data Tagged and registered, which makes breaking up the bike and selling the parts very difficult.

You may have the odd false alarm because someone has touched the bike but I reckon the aggravation would be worth it? I recommend 2 x Oxford Big Boss 16mm Alarm Padlocks - OF4 Model which will remain sounding until they are switched off by their keys.

The rear wheel of a motorcycle invariably has a brake disc plate which due to its construction will not facilitate an alarm padlock or alarm disc lock to be fitted. To avoid having to use a chain, the other solution is an Oxford Alarm-D Max U Lock which fits around a rear wheel strut and/or a rear wheel strut and through the rear swing arm. The downside, is that the U Lock is not pocketable or easily stored. A means of fixing it to the bike (when not in use) has to be found. NOTE: These U Locks come in various sizes, so the best security is when the U Lock just fits around the rear wheel strut and through the rear swing arm of your bike - leaving very little room for the thief to interfere with the device.



If you have enjoyed this article - please donate to my Charity of Choice -
The Sick Kids
Richard Lawrence
Scotland
United Kingdom