I like 'Classic Style' motorbikes and the BMW R NineT Motorcycle is worth researching. Its a bike that can be retro fitted with numerous accessories and a choice of optional paint schemes to make it your own.

Heritage: The BMW R NineT motorcycle is a 2021 incarnation of the 1923 BMW R32 which established the boxer-twin, shaft-drive power train layout that BMW would use until the present. The R NineT Boxter engine guarantees a low centre of gravity and plenty of punch but this bike is more of a 'retro style' roadster rather than a cruiser.

The image below is of the stock 2021 R NineT -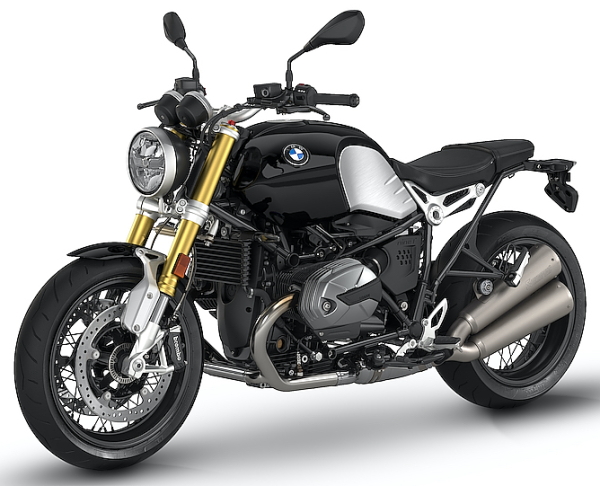 The Technical Data is certainly impressive with a nice 805mm seat height for my long legs, traction control setups for road and rain with BMW ABS Pro and a wet weight of 221Kg. The performance from its 1,170cc air/oil-cooled two-cylinder, four-stroke boxer engine with two camshafts and four radially arranged valves per cylinder, as well as central counterbalance shaft, delivers 80 kW (109 hp) at 7,250 rpm and 116 Nm of torque at 6,000 rpm.

The seating angle to the handlebars and the foot peg positions of the R NineT are ideal for me, as I like to lean slightly forward with more of a leg and knee tuck. I do not favour the 'cruiser' upright sitting position with my legs stretched forward to the foot pegs - my pelvis and lower back does not like it, it is an age thing. In any case having ridden a few cruisers, I never felt that I was in complete control of the them, especially on the corners, as my legs, when stretched out, seemed to lack the power to make any difference in the handling.

Standard Equipment:
LED headlight with daytime running light

Dual speed indicator and rational-speed sensor instrument with on-board computer content

Automatic Stability Control (ASC)

USB Charging Socket

Riding models rain & road

Drive train and final drive black

Upside down font fork fully adjustable (spring preload, compression stage rebound)
I quite like the Mineral White Metallic/Aurum colour as shown in the image below and the optional Comfort Pack with its heated grips, adaptive cruise control, pro riding modes, including dynamic engine braking control and dynamic traction control would be an obvious choice for me.

I believe BMW also do engine protection bars but I cannot source them in the configuration menu on their website. A rear paddock stand and rear wheel fittings for it, would also have to be sourced.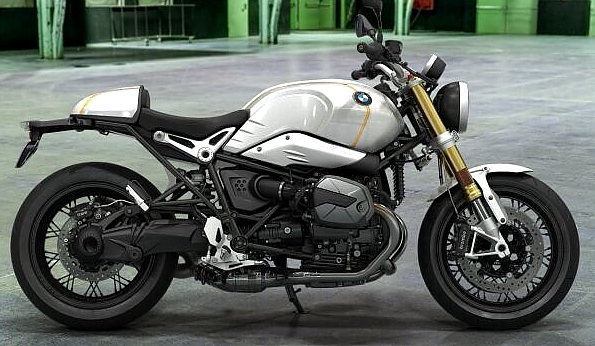 Video Reviews



A 18 month long-term review of an older 2018 R NineT -

Conclusions


The BMW R NineT is a very desirable motorbike but it is very much a roadster, which is very powerful, and I feel that it would conflict with my existing roadster, my Triumph Speed Triple RS. I like the traditional British 1960s style 'Classics' and I think the R NineT strays away from the 1960s styling, especially the engine of a British 'parallel twin' motorcycle.

However, if I did not already own a motorbike and I wanted a powerful motorcycle with a touch of retro styling, the the BMW R NineT would be high on my list.